KKK

The historical evolution of Český Krumlov gardens and parks in the 14th and 15th centuries (Gothic period)
From the very beginnings of the town's existence, a surprisingly rich collection of various kinds of gardens gradually emerged on the territory of the historical centre of Český Krumlov. Included were monastery gardens, seigniorial fortress and later castle gardens, vineyards and game parks, ornamental gardens and utility gardens of the Český Krumlov burghers, etc. From a historical point of view it can be said that the first gardens were already substantiated in medieval times from the 14th century. Concerning the appearance of the town of Český Krumlov in the medieval period, it was typical for rear parts of urban plots to be far less built-up than is the case today. The appearance between residences of the town was therefore, much more so than today, finished with small plots of meadowlands, gardens and orchards. In the close surroundings of the town, in the historical suburbs area, mainly at Plešivec and Horní Brána, agriculturally cultivated pieces of land with sprawling farmsteads and farm buildings could be found between the sparse built-up areas of a more village-like character.
One of the oldest Český Krumlov gardens are the gardens of the former Minorite monastery and the gardens of the former Clarissian convent. They emerged in the second half of the 14th century at the newly founded convents of St. František (Francis) and St. Klára in Latrán.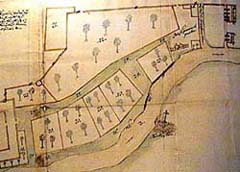 In three so-called heavenly yards, closed in by the monasteries, blissful gardens were situated. A stone reservoir was placed in the center for water to which small paths led, dividing the garden into four regular areas. On the beds here, medicinal plants and flowers for the decoration of the monastery church were grown. We can gain a general notion about the arrangement of space in the heavenly gardens in the convent of Bekyň, where the stone reservoir has been preserved up to now. On the grounds of the monastery a graveyard was situated as well as utility gardens, flowerbeds, vegetable gardens and grafting beds.
Also mentioned in the archive sources from the 15th century, in addition to the cloister gardens, are the gardens of the Český Krumlov burghers. The burgher gardens, meadows and fields, situated at valley level of the meander of the Vltava, were gradually built up with the continuing expansion of the town. This was also the case during the foundation of the Nové město (after 1375), of which the medieval built-up area expanded gradually from the main Latrán street up to the area of today's Eggenberg brewery.
Further information: