KKK

Economic History of Český Krumlov
The so-called "Linz route" leading through the Český Krumlov district started in the Linz area in Austria and led to Bohemia. (see Historical Routes in the Český Krumlov Region). Along this trading route many towns, small townships, fortified castles, monasteries as well as villages came into existence. This is why Český Krumlov, specified as a town dated from 1309, was founded. In that oldest period trade was a decisive economic sector as the town took advantage of its geographical position on the trading route.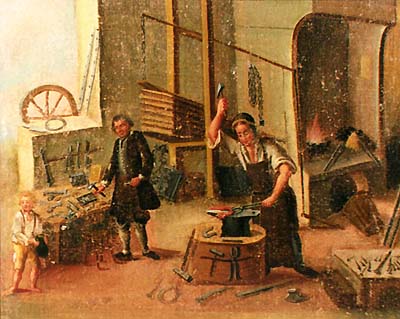 Guild manufacturing is typical of the Middle Ages when craftsmen gathered together and established guilds according to their specialisation. Over the course of centuries there were painters, bakers, barber-surgeons and bathkeepers, innkeepers, barrel-makers, vinegar-makers, butchers, carters, barley-dealers, farriers, blacksmiths, cap-makers, gingerbread-makers, liqueur-makers, bricklayers, chimney-sweeps, grinders, tailors, shoemakers, locksmiths, soap-boilers, stone-masons, second-hand dealers, cabinet-makers, brickmakers, carpenters, confectioners, brush-makers, a bookbinder, gun-smiths, lathe-workers, dyers, glaziers, gilders, hatters, comb-makers, hobnail-makers, upholsterers, strap-makers, saddlers, rope-makers, riddle-makers, drapers, cloth-shearers, potters, watchmakers, wheelwrights, fullers, tawers, tanners, weavers, pewterers, florists, decorators, thread-makers, healers, apothecaries and midwives (see History of Guilds and Crafts in Český Krumlov).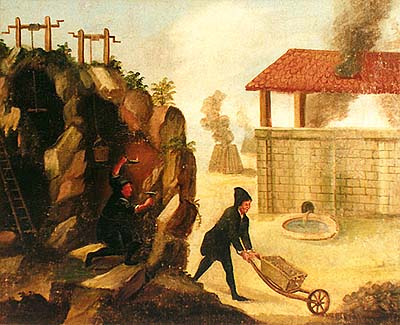 In connection with the development of guild manufacturing, silver-mining started flourishing in the town, however, the local production of precious metals was incomparably lower in comparison with other Bohemian mining towns. The highest prosperity of mining in Český Krumlov was in the late 15th and mid-16th centuries when precious metals were mined, especially silver. The reports of silver mining and smelting have been preserved from the 17th and 18th centuries as well. The exhaustion of the ore veins was followed by a decrease in mining activities and mining enterprising revived when graphite started to be mined in the 19th century (see History of Mining in Český Krumlov).
The most profitable kind of enterprising was brewing; later two breweries, town and royal, operated in the town (see History of Brewing in Český Krumlov).
Four yearly markets and regular weekly year-round markets or cattle markets took place in the town. Up to 300 merchants used to gather together at the yearly markets. At the weekly markets mainly corn, wood, poultry, butter, eggs, vegetable as well as other food and agricultural products were sold. At the beginning of the 17th century the town was privileged by its owner of the period, the emperor Rudolf II. von Habsburg, with the right to regularly hold horse and cattle markets on Thursdays between 25th January and 25th July.
The most remarkable enterprising activity was paper production since the, Paper Mill of Český Krumlov came into existence as early as the turn of the 15th and 16th centuries. The paper mill was developed to a great extend by Jiří Pachner. In 1861 the Paper Mill of Český Krumlov was bought by Ignác Spiro who later built up a modern paper mill in Větřní (see History of the Paper Mill in Větřní).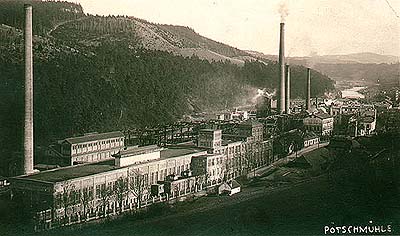 The beginnings of industry in Český Krumlov in the 19th century are only represented by three factory shops - a flax and hemp spinning mill, a cloth factory and a paper mill. The development of industrial enterprise is associated with the construction of a railway line from České Budějovice to Želnava whose operation on the České Budějovice - Kájov line began in 1891. The electrification of the town, as a symbol of the industrial era, began in 1906 when electric bulbs first lit up in Český Krumlov (see History of Industrial Production in Český Krumlov).
(mj)