KKK

History of Music in Český Krumlov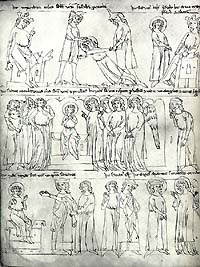 In the past, musical life in Český Krumlov concentrated mainly around the parish church of St.Vitus, at the Castle court, and the Minorite Monastery. Each place had its own particular type of orchestra and music performance.
The first evidence on musical life in Český Krumlov comes from approximately 1400 AD. A scenario of a public festival celebrating "Corpus Christi" have been preserved with a description of a procession leading down from the parish church towards the Minorite convent. The musical background of the event was described in detail and it was stated who had to sing what and where. (see (Festival of Relics Showing in Český Krumlov).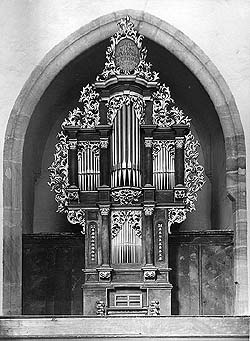 Choir-singers were listed there; it was a choir of boys from poor families who lived together in school and made a living by singing in church. From the Middle Ages almost until our century, the choir was the main institution which provided daily worship singing in the parish church. A number of sources documents its repertoire, organization and activity, and a part of its repertoire has even been preserved up to now. (see Choir-singers in Český Krumlov).
Approximately in 1490 a Literary Brotherhood was established as a guild-like organized society of burghers who gathered to sing at Sunday and holiday morning services, and a late Gothic western gallery in St. Vitus church was erected just for that purpose. The Brotherhood dissolved before 1550 and was re-established in 1554 by Wilhelm von Rosenberg. Its repertoire has partly been preserved to these days as well. (Literary Brotherhood of Český Krumlov).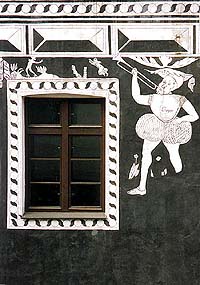 It was unthinkable not to have an organ player in the gallery. The existence of an organ has been recorded from the second half of 15 century; new instruments appeared around 1490, in 1562 and in 1606. In those days, there was a Tomas Grevis organ workshop operating in Český Krumlov. In around 1600, the local organ player had two instruments available. During some bigger events, members of the Rosenberg band joined performances as well. (Historical Organs in Český Krumlov).
Musicians in the Rosenberg's service were evidenced as of 1450 - Ulrich II. von Rosenberg regularly employed trumpeters, and a piper joined the band in around 1500. After 1520 the group unfortunately ceased. In 1552, Wilhelm von Rosenberg established a renowned Rosenberg Band which is considered the most significant one involved in nobility service before 1620 (the period of Bila Hora). (Rosenberg Music in Český Krumlov).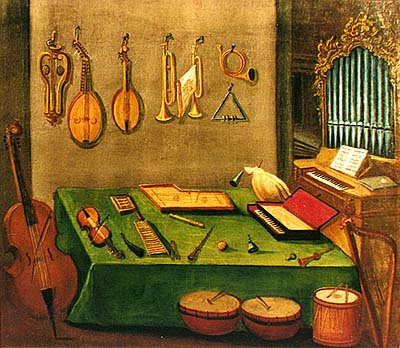 In 1602, social life at the Castle ceased and was refreshed only in 1664 when Johann Christian I. von Eggenberg took over and founded the Eggenberg Band. In 1690 - 1711 Domenico Bartoli led the orchestra whose repertoire is known from amusic register from 1706. The Schwarzenbergs founded several important bands whose activity has been well evidenced within the Schwarzenberg's well-known music collection. It involved particularly the Castle Theater (opened in 1768), Woodwind Harmony (1771 to approximately 1802), Hunters' Band (founded in approx. 1800) and Grenade-Corps Band (from 1875). (Schwarzenberg Guard).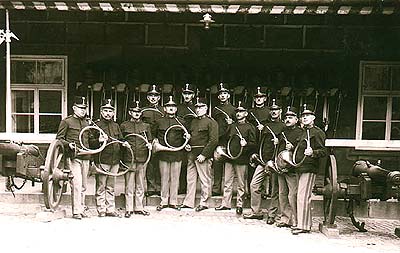 Should we go back to the St. Vitus church, we see that any records about the Literate Brotherhood disappeared during the first half of 17th century - according to the church's books, however, four solo singers replaced it and more professional musicians followed after. Other than that, group of choir-singers operated until the 19th century. St. Vitus' gallery repertoire is documented by preserved sheet music from the second half of the 18th century until the present.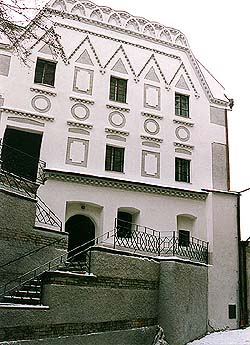 Musical theater was an unavoidable part of the Jesuit educational system. The first regular performances were opened in the Jesuit College (Horní No. 154) before 1620. Allegoric Latin dramas accompanied by music were performed to the public especially during religious holidays, or whenever noble visitors came to town. As the only preserved score from 1750 shows, some plays were actually based upon an opera composition including instrumental music parts, recitatives, arias, choirs and ballet.
A modest kind of music was probably performed in the St. Jošt church (German songs with organ accompaniment in the second half of 17th century); an interesting repertoire resonated in Our Lady Annunciation Church at Minorite Monastery. In 1692, a prominent Czech composer Bernard Artophaeus (1651-1721) was the head of the convent. He wrote the so-called Franciscan Masses, motets and spiritual concerts. His compositions unfortunately have not been preserved in Český Krumlov, however, except for an outstanding organ dated from 1682, and a collection of Prague's and Augsburg's music sheet prints from the first half of the 18th century preserved at the convent chapel loaf.
The most prominent person of the town's musical life in the first half of the 19th century was undoubtedly Karel Patka (1780-1857), director of local music school founded in 1780 and therefore the oldest public music school in Bohemia. Besides this, several societies focused on social music performance - they were founded in the course of the 19th century: Musical Society (1812), Liedertafel (1812), German Choral Society (1854), Männergesangverein (1863), Czech Readers' Discussion Society with a Choral section (1881), and Dalibor Choral Society (1906).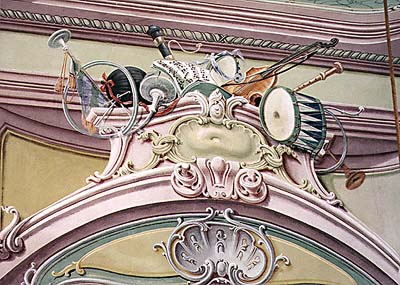 (mho)
Further information:
Český Krumlov Castle Fanfares
History of Music in the Český Krumlov Region
Castle Theater in Český Krumlov