KKK

History of Photography in Český Krumlov
Over a hundred years ago, photography - "painting with light" - was charming more and more people. First pioneers equipped with wooden cameras, tripods and other necessary properties started to leave the big cities and headed to the provinces to portray motifs as yet reserved only for drawers, graphic artists and painters.
In the 1870's, tourism began to expand as to discover unknown lands and, especially in the upper class, it was the way to enjoy the leisure time. Tourists required care, therefore a new business era started soon which was focused on the satisfaction of their needs.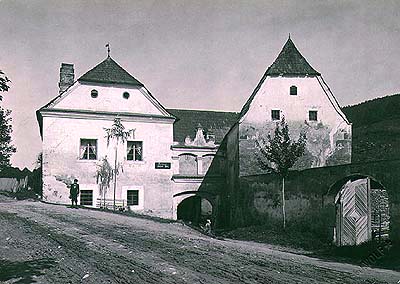 In addition to hotels, guesthouses and hiking huts, tourist and mountain guides, number of novelists, publishers and booksellers got involved in tourism and so were satisfying the increasing demand for printed guides, maps, plans and first souveniers including pictures, illustrated cards - in short, postcards.
The first postcards were produced mainly by graphic artists, however, photographers soon took over. Such a place like Cesky Krumlov could not have possibly escaped their attention. Originally, the Vienese photographer Gottfried Zimmer, native from České Žleby near Prachatice (born in 1847) took the first chance. His name and business was very closely related to the two most significant photographers from Krumlov who had lived and worked there for years and played an important role in creating outstanding documentation of the town of 19th and 20th century. They both worked for Zimmer.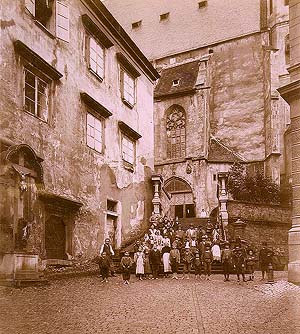 The first of them, Josef Wolf (born in Český Krumlov in 1864, died in Český Krumlov in 1938), got his training while making photographs in Zimmer's studio in Krumlov in 1881- 1884.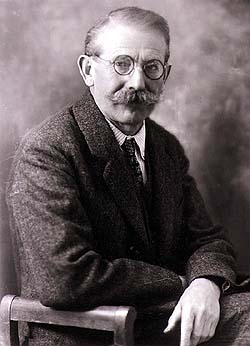 The second, Josef Seidel (born near Děčín in 1859, died in Český Krumlov in 1935), joined Zimmer's company as a trained photographer, and in 1888 became its commercial director. He took the business over in 1890 and set up his own company.
One year later, Josef Wolf returned from his journeys possessing a new license, and established his own business as well. The private and professional destinies of both Josef's were somehow similar: they both got married and set up families soon. They both filled their archives with valuable pictures of nature, landscape, secluded places, settlements, small towns and cities, churches and their interiors, ancient art pieces, moments in both daily and festive lives of local inhabitants. Both men brought up their descendants and both left their beloved work in the thirties of 20th century, within just three years - Wolf at 74-years-old, and Seidel two years older than Wolf.
Both had their own peculiarities. Apart from others, Wolf was the first photographer in the Austrian-Hungarian Empire who made pictures of shooting a movie. It was a movie on Passion plays in Hořice shot by an American Charles Hurd's movie studio in 1897. Two years earlier, Wolf had started to cooperate with a French movie studio Pathé Freres Paris. He created specialized shots on either trout and pearl oysters breeding in Šumava or various constructional details of historical buildings.
| | | |
| --- | --- | --- |
| | | |
Seidel was truly mesmerized by Šumava and its inhabitants. Having penetrated many hardly accessible places, he always brought some new and fresh unique takes. He was also one of the first skiing pioneers in Šumava; he carried out his expeditions wearing a backpack and clumsy boards on his feet. He was never afraid to launch new procedures in making photographs - panoramic pictures of the square in Krumlov from approximately 1905, Alpine view from Kleť Hill, or trials with colored photography made a good enough proof.
Postcards were taken, produced and sold by enthusiastic photographers from Krumlov for over forty years while, at the same time, fighting a great competition was an unavoidable part of every sound collection. They are certainly collected within the regional archive funds and in collections of The District Museum of National History in Český Krumlov.

(pj)