KKK

Choir-singers in Český Krumlov
The choir-singers at the St. Vitus church used to be headed up by a teacher or school master. They sang every day the morning masses and in the afternoon during the vespers, then on funerals and services for the deceased. The main part of their repertoire was a Latin chorus; they also sang polyphony of the time, and at the end of the 16th century they sang it every day.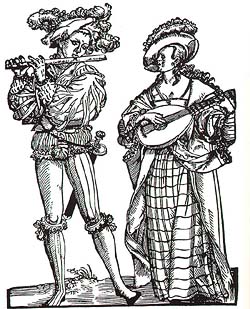 A certain polyphonic piece dating from the end of the 15th century might have had some connection with their repertoire, but a manuscript containing polyphonic music to the vespers from the second half of the 16th century definitely links with it. This score is an unique source of Central European and Bohemian music of the days of Rudolf II.. It contains polyphonic composition of hymns, vespers and the Magnificants. The most significant composers of those times were the likes of Thomas Stoltzer, Ludwig Senfl, Christobal Morales, Orlando di Lasso, Jacob Vaet, plus the composers from Rudolf´s Prague such as Franz Sale, Jacob de Kerle and Jan Simonides Montanus from Kutná Hora.
A hymn-book was owned by the literary brotherhood. The choir-singers probably didn't take very good care of the music manuscripts, because the members of the literary brotherhood complained about them to a lordship that "it is feared that because of the carelessness of some teachers, some of the manuscripts could be lost or damaged". In the 16th century the choir would have anywhere from twelve to fourteen members and was an indispensable part of the town's life. No celebration in the town was complete without the choir-singers; they sang regularly to the burgrave and town councillors at the town hall, and it was even possible to hire them to sing a motet in front of your house. Such a service would cost you 30 Meissen groschens.
(mho)
See also:
History of Music in Český Krumlov