KKK

History of the open-air theater with revolving auditorium in Český Krumlov
As early as 1947 in the context of the first year of the South Bohemian Theatre Festival in the Castle Gardens in front of the summer-house Bellarie the plays were presented as follows: "Singing Venice" by A. Hoffmeister and "Twelfth Night" by W. Shakespeare whose producer was Karel Konstantin, Director of the South Bohemian Theater of that time, and Joan Brehms, Set Designer. This was probably when the idea of an experimental revolving auditorium started living, and also why the first experimental performance on the revolving autitorium could be realised after more than ten years.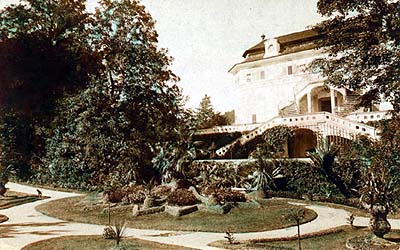 On 9th June 1958 the the revolving auditorium was turned for the first time. "Lost Face" by Weisenborn was staged by the producer Otto Haas and the stage-designer Joan Brehms who both became "spiritual fathers" of the revolving auditorium. The revolving auditorium, however, could carry only sixty people. But not later than the next year a revolving auditorium, driven by human power, for 400 people was built. The bowels of the revolving auditorium had to hold 40 people driving it back and forth. Otto Haas as a producer altogether with Joan Brehms as a stage-designer staged " The Lantern" by Jirásek before the revolving auditorium. The drama programme could not have been better. Almost everything supported the success of " The Lantern". The Rococo castle as wings for nobility, the mill even with sluice-gates and headrace, the hold in the distance as if made for a poetical charm of village fiddlers´ night gathering and their serenades. The success was huge. The originally three planned performances increased up to 23 and total number of 9,373 viewers saw it.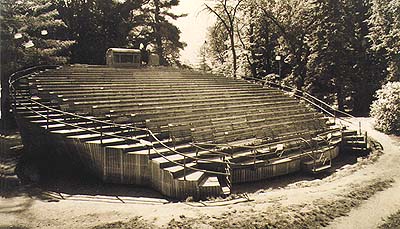 After this success the revolving auditorium was again given a new appearance in 1960. The increased performance demand necessitated the increase the number of seats to 550 and the revolving auditorium was driven by an electric motor. The operation of the revolving auditorium under those conditions was interrupted until the general reconstruction implemented between 1989 and 1993. Today´s appearance of the revolving auditorium has been given by several designers. The machinery was designed and implemented by Škoda a.s. Plzeň and the stage technical equipment was supplied by Cultact Brno. A new revolving auditorium with smooth running movement in both directions which is provided by four electric motors and with its weight of 650 tons has a capacity for 658 auditors.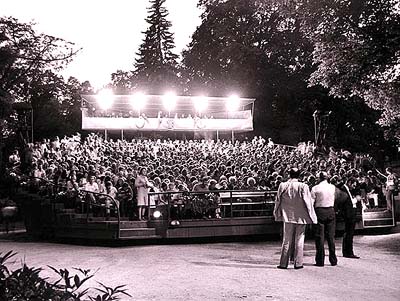 In the course of years until the general reconstruction apart from the "permanent" producers Otto Haas, Zdeněk Míka and Milan Fridrich, other producers have staged there as well: Jan Schmidt, Karel Novák, Karel Neubauer, Otto Hradecký, Jaromír Pleskot, Stanislav Kopecký, Kristina Taberyová, Karel Konstantin, Alexej Nosek, Václav Hudeček, Václav Hartl, Inge Švandová, Milan Hojdys, Stanislav Holub, Jaroslav Ryšavý, Jaroslav Honzík and others.
Plays staged at the revolving auditorium:
1958 - Günther Weisenborn - Lost Face

1959 - Alois Jirásek - Lucerna ( The Lantern)
Antonín Dvořák - Rusalka (The Nymph)

1960 - W. Shakespeare - A Midsummer Night´s Dream
Alois Jirásek - Lucerna (The Lantern)
Antonín Dvořák - Rusalka (The Nymph)

1961 - Jan Drda - Hrátky s čertem (Trifling with a Devil)
Giuseppe Verdi - Rigoletto
G. Bizet - Carmen

1962 - J.K.Tyl - Strakonický dudák (The Bagpiper from Strakonice)
W. Shakespeare - Twelfth Night
B. Smetana - Prodaná nevěsta (The Bartered Bride)

1963 - F. Kožík - Krumlovská romance (The Český Krumlov Romance)
W. Shakespeare - The Taming of the Shrew
Antonín Dvořák - Rusalka (The Nymph)
Giuseppe Verdi - Rigoletto

1964 - 400th Anniversary of W.Shakespeare´s birthday
W. Shakespeare - As You Like It
W. Shakespeare - Twelfth Night
W. Shakespeare - The Taming of the Shrew
W. Shakespeare - Macbeth
W. Shakespeare - The Merry Wives of Windsor

1965 - Alois Jirásek - Lucerna (The Lantern)
W. Shakespeare - Twelfth Night
P.I.Tchaikovskij - Labutí jezero (Swans Lake)
G. Verdi - Troubadour
B. Smetana - Dvě vdovy (Two widows)

1966 - W. Shakespeare - Much Ado About Nothing
J. Zeyer - Radúz a Mahulena
J. Pauer - Zuzana Vojířová
P.I.Tchaikovskij - Labutí jezero (Swans Lake)

1967 - Alois Jirásek - Lucerna (The Lantern)
J.K.Tyl - Tvrdohlavá žena (The Stubborn Wife)
J. Zeyer - Radúz a Mahulena

1968 - J. Drda - Dalskabáty hříšná ves aneb zaomenutý čert (Dalskabáty Sinful Village or the Forgotten Devil)
J. Zeyer - Radúz a Mahulena
F. Kožík - Tristan and Izolde
J. Pauer - Zuzana Vojířová

1969 - B. Němcová - Babička (Grandmother)
J. Drda - Dalskabáty hříšná ves aneb zapomenutý čert (Dalskabáty Sinful Village or the Forgotten Devil)
F. Kožík - Tristan and Izolde
| | | |
| --- | --- | --- |
| | | |
1970 - M. Kubátová - Jak šla basa do nebe (How the Double Bass Went to Heaven)
František Hrubín - The Beauty and the Beast (a screenplay especially for the Český Krumlov revoling auditorium)
B. Němcová - Babička (Grandmother)

1971 - W. Shakespeare - A Midsummer Night´s Dream
B. Němcová - Babička (Grandmother)
František Hrubín - The Beauty and the Beast

1972 - J.K.Tyl - Strakonický dudák (The Bagpiper from Strakonice)
František Hrubín - The Beauty and the Beast
W. Shakespeare - A Midsummer Night´s Dream

1973 - H. Ibsen - Peer Gynt
W. Shakespeare - A Midsummer Night´s Dream
J.K.Tyl - Strakonický dudák (The Bagpiper from Strakonice)

1974 - T. Svatopluk - Patálie s pomníkem (The Trouble over a Monument)
J.K.Tyl - Strakonický dudák (The Bagpiper from Strakonice)
H. Ibsen - Peer Gynt

1975 - František Hrubín - The Beauty and the Beast
Alois Jirásek - Lucerna (The Lantern)
T. Svatopluk - Patálie s pomníkem (The Trouble over a Monument)
B. Martinů - Veselohra na mostě (The Comedy on a Bridge)
Vojtěch Jírovec - Oční lékař (The Eye Specialist)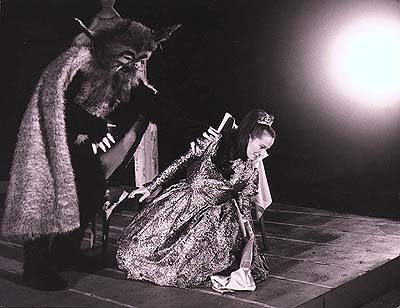 1976 - Alois Jirásek - Lucerna (The Lantern)
T. Svatopluk - Patálie s pomníkem (The Trouble over a Monument)
František Hrubín - The Beauty and the Beast

1977 - J. Zeyer - Radúz a Mahulena
František Hrubín - The Beauty and the Beast
Alois Jirásek - Lucerna (The Lantern)

1978 - V.K. Klicpera - Ženský boj (The Women´s Struggle)
František Hrubín - The Beauty and the Beast
J. Zeyer - Radúz a Mahulena

1979 - J. Drda - Dalskabáty hříšná ves aneb zapomenutý čert (Dalskabáty Sinful Village or the Forgotten Devil)
J. Zeyer - Radúz a Mahulena
V.K. Klicpera - Ženský boj (The Women´s Struggle)

1980 - Josef and Karel Čapek - Ze života hmyzu (From the Life of an Insect)
J. Drda - Dalskabáty hříšná ves aneb zapomenutý čert (Dalskabáty Sinful Village or the Forgotten Devil)

1981 - W. Shakespeare - The Taming of the Shrew

1982 - W. Shakespeare - The Taming of the Shrew
Miloš Hlávka - Benátská maškaráda (The Venice Masquerade)

1983 - F. Kožík - Krumlovská romance (The Český Krumlov Romance)

1984 - J.K.Tyl - Strakonický dudák (The Bagpiper from Strakonice)

1985 - W. Shakespeare - A Midsummer Night´s Dream

1986 - Alois Jirásek - Lucerna (The Lantern)

1987 - J.K.Tyl - Strakonický dudák (The Bagpiper from Strakonice)

1988 - J.K.Tyl - Strakonický dudák (The Bagpiper from Strakonice)

1989 - 1993 - The general reconstruction

1993 - Venkovanky (The Country Women)

1994 - W. Shakespeare - A Midsummer Night´s Dream

1995 - František Hrubín - The Beauty and the Beast
G. Verdi - Rigoletto
P.I.Tchaikovskij - Romeo and Juliet, Hamlet (ballet)
W. Shakespeare - A Midsummer Night´s Dream

1996 - František Hrubín - The Beauty and the Beast
G. Verdi - Rigoletto
W. Shakespeare - A Midsummer Night´s Dream
Adolphe Charles Adam - Giselle (ballet)

1997 - Antonín Dvořák - Rusalka (The Nymph)
W. Shakespeare - The Tempest

1998 - W. Shakespeare - A Midsummer Night´s Dream
W. Shakespeare - The Tempest
Adolphe Charles Adam - Giselle (ballet)
Antonín Dvořák - Rusalka (The Nymph)
W.A.Mozart - The Magic Flute
| | | |
| --- | --- | --- |
| | | |
Other information:
History of the South Bohemian Theatre Festival in Český Krumlov
The South Bohemian Theatre Summer
Revolving Auditorium
(jvo)