KKK

Fortified Settlement of Chlum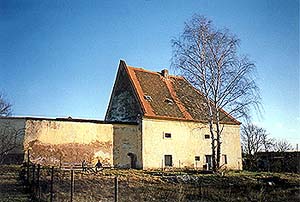 Location:
The fortified settlement of Chlum is located 10 km to the north of Český Krumlov
Origin of the Name:
The name is derived from the old Czech name for hill
Description of the Place:
Today the entirely indistinct ruins of the fortified settlement are located in a basement of a former farm yard situated in the north part of the village.
Architectural and Historical Development:
The fortified settlement of Chlum founded in the 13th century was reconstructed several times during its existence. Those reconstruction led to the fact that the settlement was changed into the farm yard in the 17th century.
History of the Place's Residents:
The first owner of the fortified settlement of Chlum was Beneš z Chlumu, a member of one branch of Lords from Strakonice. The offspring of Jindřich and Smil z Chlumu were divided in 1315 on the Chieftains from Křemže and Chieftains from Chlum and so the family estates were divided too. The more famous of the two families were the owners of Křemže and Závraty, Koroseky and Lhotka villages. By means of the wife of one of the Chlum's Chieftains, Markéta, maiden name z Dlouhé Vsi, Chlum and Křemže were passed over to the Častolárs from Dlouhá Ves in 1527. The fortified settlement of Chlum remained in their ownership until 1668 when duke Johann Christian I. von Eggenberg bought it and annexed it to his Český Krumlov estates.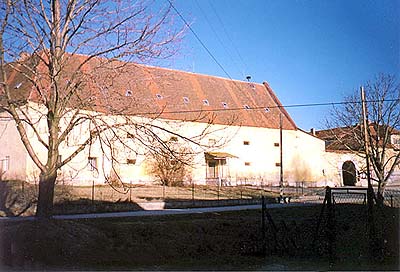 Fortress in Chlum was built from stone and it has shingle roof. There were four rooms in the fortress, two offices, one large vaulted kitchen, in which stood oven for bread baking. Beside kitchen was located fairly large vaulted storage. Second storage was straight in parkan, behind which was cellar for storing of venison and other necessities . In the whole fortress were none cellars and six pantries for web, grocery and other necessities. Under shingle roof was located attic granary. In fortress was also stall for seven horses and behind it pantry, where harnesses and saddles were stored. Brewery in fortress was equipped with malt plant, malt storage and two vaulted cellars for deposing beer. Brewery produced 52 brews a year, each of seven věrtels of beer, what was altogether 364 věrtels (879 hl) per year. From every věrtel of sold beer became 44 pennies of net profit, thus together 16.016 pennies a year. To brewery belonged two pubs - in Chlum and in Lhotka. Behind barn beside fortress was located a hop-field. Beside fortress was yard with two rooms for grooms, stalls, room for maid, barn and cowshed. In yard could be grown 25 milch cows, 30 heifers, 40 swine, 300 sheep, 4 mares, 10 oxen and 3 riding horses.

To the farm belonged fields of area two and half stretch with equal quantity of meadows and pastures. Beside fortress used to be a large orchard with vegetable and flower garden. Beside the gate of fortress was a pergola. Under small pond was small bath for linen washing, cages for keeping fish, mill under fortress and another mill called Hendrychovský, ponds Vochozí, Tůmovský and Za tvrzí, a little bit further was trout brook and other four brooks. In forests was plenty of deer and other game - stags, bears, roebucks, hogs, lynxes, wolfs, foxes, hares and plumy game.

Servants were in Chlum paying servant salaries on St. Jiří and St. Havel, they giving to manor chickens and eggs. The whole village paid a year the interest of 12 stacks and 37 pennies and was giving away 40 chickens and 195 eggs.

Duties of farmers in Chlum as a part of their bondage: scythe, dry and carry away the hay and aftermath from fortress owner's meadows, sow, drag, scythe, reap and carry grain to barn. During harvest of pea were cottagers helping to farmers. Another duty of farmers was to carry away from court manure, which had to be scattered on fields by cottagers. Flax had to be prepared and spun. Farmers planted and harvested cabbage, cut needful amount of wood, carried it into fortress and chopped it there. Finally had farmers in Chlum duty to blugh up all noblemen fields. Number of working days was not given yet, but it seems that local inhabitants always had a harder conditions than their neighbors in manor Krumlov.
Tales and legends:
There is a legend about an underground passage connected the fortified settlement of Chlum. The passage was supposed to begin there and go an hour's journey away from the village.
Present use:
Nowadays Přemysl Hořejší, an owner, dwells the fortress of Chlum, where he is engaged in farming, horse-breeding and training, agriculture-tourism, and riders training. A convenient accommodation facility suitable for 10 people is a part of the grounds.
(zp)
Further information:

Little Castle of Křemže
Coat of arms in region Český Krumlov
Castles, chateaux, monasteries and other monuments in region Český Krumlov
Microregion Podkletí - Picture guide
Microregion Podkletí