KKK

Radniční No. 28
Location:
Radniční No. 28
Description of the Building:
A one-storey house with a front divided by six axis, and a jamb wall with small windows. The front, not very articulated, originates from 1918. On the ground floor on the left is an entrance hall with barrel vaults with sectors, additionally divided; on the right is a room with a Rennaissance joist ceiling. On the upper floor some vaulted rooms have been preserved.
Architectural and Historical Development:
The building originated in the Gothic period as the main building and the court wing. A significant reconstruction was carried out in the Rennaissance period. Further reconstruction was done at the beginning of the 20th century, when the facade was renovated and the jamb wall was added. In the post-war period the vaulted rooms were removed from the back aisle, replaced by the present courtyard.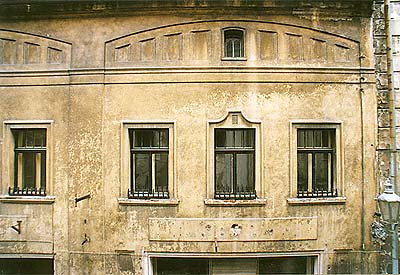 Significant Architectural Features:
All the ground floor, together with some vaults on the upper floor, is remarkable.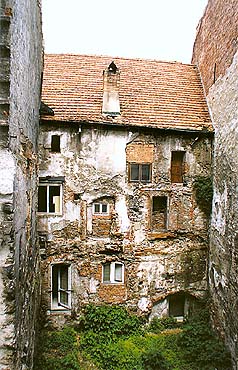 History of the House Residents :
The first known owner of this house was a locksmith Keř in the first half of the 16th century. In 1545 Michl Holzpezna moved there, followed by a tailor Klement in 1568. The house belonged for some time to Matyáš Fuch z Fuchýřova, and afterwards a glassmaker Valtin lived there. From 1601 a baker Mates Mayer stayed in the house. In about the middle of the 17th century (1647 - 1653) the house was owned by a saddler Vít Wolf. A butcher Jakob Klämpfel succeeded him. From 1659 the house belonged to a bricklayer Antonius Bossi, who also owned the house at Radniční No. 24. From further owners we can mention at least a miller Anton Postl and a barley-dealer Sebastian Neubauer, who lived in the house in the 18th century.
Present Use:
Music Shop Disc Music, Optician.