KKK

Radniční No. 25
Description of the Building:
A two-storey row burgess house on a narrow deep land parcel with a one-storey court wing and widened rear aisle. The main building is covered with a saddle roof perpendicular to the front. The street front with two window axes is finished with a round gable with volutes.
Architectural and Historical Development:
The house is of medieval origin. The lateral court wing, which belonged to the house No. 21 until 1663, probably originated in that time. The lengthwise court wing probably originated in the Rennaissance period. The second floor of the building is of either Rennaissance or Baroque origin. In the second half of the 18th century the street front and some interiors were renovated and obtained their present appearance, e.g. the ceiling of a chamber on the second floor, a division wall of the second floor section which divided it into a chamber and a scullery (a kitchen without windows). Further reconstructions were carried out in the first half of the 19th century. The last significant reconstructions were done mainly in the central aisle in 1941, when a new staircase was set.
Significant Architectural Features:
a street front from the second half of the 18th century
a stucco mirror of the ceiling in a chamber on the first floor, covering a joist ceiling with double decking (a more simple version with skived edges)
odd arcades in a room on the second floora
simple collar beam roof truss of probably Rennaissance origin (now removed nowadays)
a moulded cornice of the lateral court aisle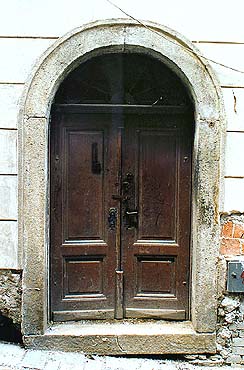 History of the House Residents:
The first known owner of the house was a butcher Mertl until 1466. From 1484 a certain Haluzna owned it . In the second third of the 16th century a tailor Jan Chromý stayed there, whose surname has probably its origin in his physical handicap (chromý = lame). From 1560 - 1572 the house belonged to a weaver Jakub Spanner. The following owner was Hans Verwaltel or Verwalter from Weitra. The price of the house was only 280 three scores of Meissen groschen in 1620. In the 1650s - 80s a merchant Heřman Mühlperger, who also brewed beer, lived there. In 1663 a back building of the house at Panská No. 21 was added. From 1752 the house belonged to a teacher František Kasper, who was followed by a weaver Vincenc Schubert in 1810. On the break of the 19th and 20th centuries Josef Poschl owned it. At that time a tailor´s and butcher´s are mentioned in the house, although the ground floor section served business purposes even in the first third of the 19th century.
Present Use:
Little hotel, restaurant, wine bar U Malého Vítka