KKK

Latrán No. 27
Description of the Building:
A very large complex of brewery buildings with its center formed by four wings that surround a courtyard closed by a Renaissance quoin portal. All wings including the buildings situated in the courtyard have sgraffito. The buildings on the Eastern and Northern side also belong to the brewery. The West wing has primarily cross and Renaissance vaults with caps. The west side of the northern end of the wing has a shallow wing the front of which used to be broken on the ground floor by a Renaissance loggia with its archivolts preserved in the sgraffito. The part near the Southwest corner has two stories and a monumental Renaissance stairway. The ground floor of the East and South wings contains large brewing spaces with cross vaults with groins.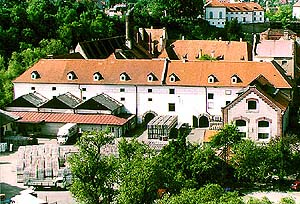 Architectural and Historical Development:
The West wing is the oldest; it is a reconstructed older building, as evidenced by the Gothic window on the side facing the garden. The construction started after 1546, and the building used to be a widow wing. All other historic wings were built in the time of Petr Wok von Rosenberg by the end of the sixteenth century, when the buildings were turned into an armory. Construction activity peaked when the next change of the building\'s usage resulted from the brewery being established (see History of brewing in Český Krumlov). All remaining buildings were constructed during the second half of the nineteenth century and during the twentieth century with the exception of the two wings adjacent to the main East-West wings which are older.

Present Use:
Brewery Eggenberg, Restaurant Eggenberg