KKK

Literary Brotherhood in Český Krumlov
The Literary Brotherhood was a community of the more educated members of the middle classes who used to meet to sing songs of worship on Sundays and on holiday morning services and in Advent matins. Most of the preserved memorials of Czech music from the end of the 15th century to the beginning of the 17th century are connected with the activity of such literary brotherhoods.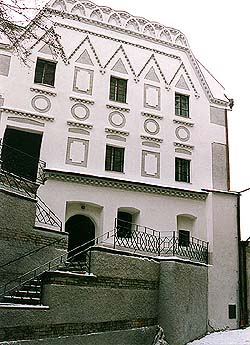 The Literary Brotherhood in Český Krumlov was founded in 1490, abolished before the middle of the 16th century, and in 1554 Wilhelm von Rosenberg re-established it again. He, in fact, ordered to re-establish the brotherhood because "it has been a long tradition in all towns of the Czech kingdom that those who are educated and endued with music or literary ability and live in a town have to come and sing the masses". After the renewal the brotherhood had 24 members, most of them members of the middle class. A complaint from the school leadership from the beginning of the 17th century has been preserved saying that the literary brotherhood "does not have enough members" and choir singers have to help them to fulfill their duties "they used to do on their own according to a very old tradition". Both choirs supplemented each other, but as time went on they began to sing together. It was also one of the duties of members of Rosenberg Music to help the literary brotherhood with the choir.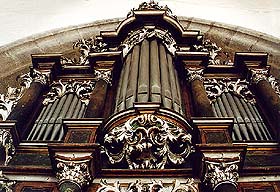 Music on the turn of the 16th and 17th centuries had to have quite a lot of members. The singers were arranged in two or more independent choirs that played to each other or joined each other in a polyphonic choir. The stereophonic effects were quite common in the vocabulary of the music of the Late Renaissance. One of three polyphonic hymn-books preserved from those times in Český Krumlov contains such music - twelve masses for five to eight voices composed by the most famous composers of the end of the 16th century (Orlando di Lasso, Jacob Vaet, Philipp de Monte, Alexander Utendal, etc.). Their interpretation needed the help of choir singers, especially pre-pubescent boys, because they were able to sing the high parts. Two other hymn-books, of fourteen that are registered in an inventory, were preserved. One of them contains a mass and motets only for male voice - it means only for members of literary brotherhood (Cypriano de Rore, Matthias Herrmann Verrecor, Jacob Arcadelt, Benedictus Appenzeller, Dominicus Phinot, etc), the second book contains vespers, psalms and Magnificat that were sung by the choir singers.
(mho)
See also: