KKK

The historical evolution of Český Krumlov gardens and parks under the administration of the emperor in the years 1601 - 1622 (Mannerism period)
The change of the owner of the demesne, and in the case of the Novoměstské gardens also the change of the gardener, brought with it, at least in the beginning, a decrease in the level of expertise of garden care. For the Český Krumlov seigniorial gardens, the imperial period meant a period of conservation, possibly even of degradation of the landscaping already started by the Rosenbergs. A report from the year 1613 casts doubt upon the justification of growing certain kinds of trees or shrubs (the vine does not ripen, the pomegranates do not bear fruit, etc.). The garden at the time served mainly for growing vegetables for the castle kitchen.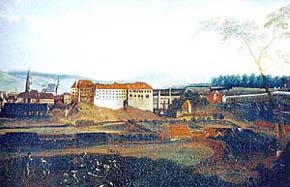 The turbulent period of the Thirty Years War put its signature on the appearance of the Český Krumlov gardens. Already from the beginning of the Thirty Years War (in the years 1618 - 1620), the western field in front of the castle was fortified with ramparts of earth upon which were built log cabins and small shelters for cannons. This ultimately led to extensive modifications of the relief of the hill above the castle in comparison with the condition in the 16th century.
The area of the present Deer Gardens was afflicted by fortification works already at the beginning of the Thirty Years War. Immediately at its beginning, in the year 1618, the castle pond was filled in fear of attacks of the estates armies (Král, Petr: Life in the Český Krumlov castle residence in the years 1612 - 1620) Č. Budějovice, PF, 1994). The occupation by the imperial garrison caused a fundamental change in the appearance of the castle grounds. In 1620, its commanding officer Ferdinand Carrati de Carrara had a massive bastion fortification built on the territory of today's first courtyard. Part of the preparations of the castle as a fortress for battle was doubtlessly also the "clearing" of the castle slopes for security reasons.
Further information: