KKK

The lime tree in the community of Běleň
Not only the people are all subject to the tricks played by destiny. A lime tree in the community of Běleň not far away from Malšín has a very interesting fate. The lime tree is said to be the oldest lime tree in the South Bohemia. It was planted around the year 1200. At that time there had been the monastery in Zátoň for 150 years and the country´s trail led from Vyšší Brod to Zátoň for several centuries.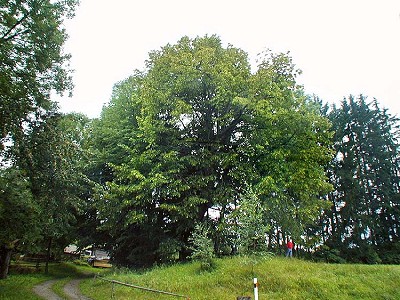 Běleň´s court yard is mentioned in the Rožmberk land and duties register dating from 1374. Běleň´s court yard is thought to be established at the turn of the 11th and 12th century because family lime trees were planted after foundations had been laid. The Hussite armies and the armies during the 30-year war camped out under the lime tree growing in Běleň´s court yard. Since 1518 there had been a magistrate´s house next to the lime tree. The magistracy of that place managed the communities of Běleň, Zábraní, Branná and Poustevna. In the reign of Peter Vok of Rožmberk the lime tree was four hundred years old , and Pabel´c mill was not very far away. The impressive lime tree could be seen from Lojza and Synek´s mill.
In the middle of the 19th century there were 16 manors in Běleň. The family lime tree was not missing at most of them. But any of them was not equaled to Bělen´s lime tree. The inhabitants met under the lime tree during the babtism, wedding and funeral. When eighty-seven German inhabitants living in Běleň were shifted after the war , they were leaving from the lime tree. In 1946 sixty-seven new settlers mostly from Romania came to the lime tree.
In 1951 the lime tree / girth 12,5 metres / seemed to die after it had been thunderstruck. However, something very surprising happened. While the community of Běleň became extinct, the lime tree is still alive.
(fs)
Further information :
History of the Vyšší Brod Region
Memorable Trees in the Český Krumlov Region
Description of Natural Conditions in the Český Krumlov Region
Malšín
Flora in the Český Krumlov Region