KKK

Fanny Greiplová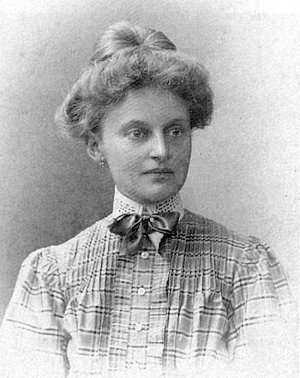 PIRLING, the little town, I have always liked it! But who would have ever thought that it would become so dear to me! My heart is so delighted any time I recall its beauty: as it is gracefully located on the green velvet hill, and the white houses looking down on the river moistening its waterside and floating under the wooden bridge where a red little tower with a picture of St. Jan is placed. Be blessed and greeted for ever and ever. Adalbert Stifter, a Bohemian Forest poet, remembers his Frymburk in the book Z kroniky našeho rodu (From Our Family Chronicle). How come he would not. Frymburk is a place of his life-love to Fanny Greipl.
Fanny was born on 28 June 1808 in Frymburk as one of four daughters of the rich merchant. She would not have been mentioned in writing if her brother Mathias had not invited his friend and schoolmate Adalbert Stifter into their imposing house on the square of Frymburk. He spent his holiday there in 1826. Nowadays the original house was replaced (No. 74). Greipl´s house had been the most imposing house in Frymburk and its surroundings until it was destroyed in an extensive fire on 7 August 1856. Its Baroque gable had towered above other houses and been a sign of the rich merchant owning his shops in Vienna and Terst. Adalbert, a student, did not know whether to become a painter or natural historian scientist. However, he was attracted by black-eyed Fanny, his friend Mathias´s sister. He fell in love with her. He wrote accordingly: "I will always remember these days, the most beautiful days during my student period."
Terezie, Fanny´s mother, noticed the flush between her daughter and Adalbert. She also noticed that the poor student was very unsteady, and could not make up his mind. He did not know whether to study law and live in affluence or study art and be free and independent. One year later Adalbert Stifter came to Frymburk again to see his Fanny. A picture of Frymburk and Ruins of Vítkův Hrádek has been preserved since then. It was painted near the Lipno inlet, today called "Na Rybízárně". In the picture you can see a pine-tree wood next to the pen and the church of St. Bartholomew with a red cupola towering above, a ruin of Vítkův Hrádek and a Baroque gable of Greipl´s imposing house.

When Marie Blechingerová, Fanny´s friend, married to Adalbert´s friend Schiffler, Adalbert Stifter, a poet, last saw Fanny. He noticed her tears and thought to gain her love back. He wrote a letter to her, but never got a reply from her. Stifter had never seen his ideal bride again. She became the sister of immortal mistresses in his poetry. On 18 October Fanny got married to Josef Fleischhandel, a chamber secretary, and moved to Wels. Three years later she and her baby died during her delivery of her baby.
Later when the poet and his wife visited Frymburk they stayed in Greipl´s house - two bedrooms situated west where he had spent his student holidays. They were welcome very kindly. His earlier moments are described very impressively in his work Lesní poutník (Forest Pilgrim). Nowadays there is a tomb slab of Fanny´s parents on the church wall in the direction of the ferry. It still evokes a memory of love between Adalbert Stifter, a Bohemian Forest poet, and Fanny Greipl.
(fs)
Further information:
History of the Vyšší Brod Region
Adalbert Stifter
Frymburk