KKK

Hospital in Vyšší Brod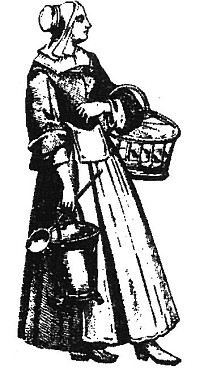 On 25. October 1346 was in Vyšší Brod consecrated by bishop Adam von Gabulla "spital church" of St. Alžběta. The establishment of hospital in Vyšší Brod executed Petr of Rožmberk on 4. September 1347, when he set up "six incumbencies for the ills". He gave to Vyšší Brod hospital the benefits from his court, fields and plantation in Nesselbach, today´s Větrná between Rožmberk and Malšín. His sons Petr and Jan of Rožmberk in the year 1361 added another four and in the year 1371 another two incumbencies for ills. Hospital in house, which from the year 1772 has No. 122, was probably built after a year 1367, because in this year there is introduced "poorhouse for sick gentlemen" right in cloister. In the year 1379 gave a cardinal Pilous to the monasterial hospital indulgences, which were probably used on finishing of building. In document from 25. January 1380 presents the Rožmberks to the cloister a village Lahhrurberher near Upper-Austrian cloister Schlagl on condition, that in hospital will be established a constant service and abbot will ensure one priest from monastery, who will supervise that hospital gets everything, what it needs. Service was supposed to be done by "honest maid". Hospital got the same name as an adjacent chapel, then hospital of St. Alžběta.
About hospital in Vyšší Brod we learn more in the half of 16th century, when there is in the year 1545 introduced a gamy hospital "hind Barbora, who alternated Anna, wife of incumbency-administrator Šimon". In this time was in hospital founded a court and the entire hospital building was reconstructed. In the year 1560 is in orphan's books of Vyšší Brod written about "new hospital". Accordingly in German chronicle of Vyšší Brod is by the year 1549 written about new hospital, but from further text is clear, that mentioned was later poorhouse in upside part of square, which however could during a reconstruction of building near chapel of St. Alžběta temporarily serve as hospital. Yet already before 2. February 1576 there was in Vyšší Brod only a hospital near chapel of St. Alžběta, which belonged to town. During the sale of two meadows Valnov, which were the estates of cloister, new owner Kaspar Knoll was burdened with obligation to provide six six-feet of firing wood inclusive supply on the benefit of Vyšší Brod hospital. Even about one hundred years later, when these meadows owned in the year 1681 Vyšší Brod townsfolks Matthias Lebhard and Wenzl Fullkofl, each of them had to supply the hospital yearly on St. Michael three cartloads of wood.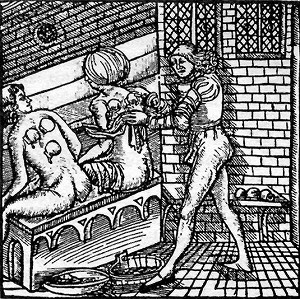 On 9. September 1610 gives an abbot from Vyšší Brod cloister Ferenschon to town Vyšší Brod for purposes of hospital one hundred Rhine francs left after gamy stonecutter Sebestián Posch, who worked more than twenty years cloisters Vyšší Brod and Zlatá Koruna. "This man gave us before certain time an amount of one hundred Rhine golds, counted with sixty doits...and asked us, to give these hundred golds to hospital in town Vyšší Brod for better care of the local poors". Beneficiaries were getting free diets by the townsmen. Two hospital helping arranged cloister, how is written "before year 1656 and then". The church of St. Alžběta was falling down, and that is why it was rebuil in year 1670, during period of an abbot Johann Clayey, by master-builders Peter Spinetti and Bartholomaus Bulla. It was dedicated to St. Josef and since then the hospital has got also name of St. Josef. On 25. June 1773 obtained Vyšší Brod hospital of St. Josef thousand pfennigs, which was about a quarter of silver amount, from Father Qeyer as an inheritance after his parents. For this the spitalers had to daily pray for giver and his parents. In years 1797 and 1798 served this hospital as an ambulance, because at that time raged "infectious illness".
(fs)
Further information:
History of the Vyšší Brod Region
Monasterial pharmacy in Vyšší Brod
Healthcare in the Český Krumlov Region
Vyšší Brod
Vyšší Brod Monastery