KKK

Beginning of Potato Growing in the Český Krumlov Region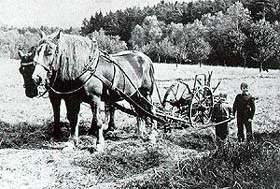 One of the most important potato growing areas in the regions of our Republic is the South Bohemian region, including the Český Krumlov area. If we want to follow the potato growing in this region from the beginning, we have to go back to the second half of the 18th century, when between the years 1758-1760 news is first hear of the spread of growing this plant on the estates of the Schwarzenberg family in the region of Český Krumlov. Potatoes came into Europe in the 16th century, they came from America. At the beginning they were grown only as a decoration plant in the garden. Potatoes spread most likely into Bohemia from its neighbouring Germanic countries. Researchers assume by the colloquial names that were given to potatoes, as erteple, zemanky etc., which most likely came from the German name Erdäpfel. The use of potatoes as feed for animals or even for population was viewed by people with distrust, which was overcome towards the end of the 18th century, when the necessity to find new sources of food for the population, to feed the population, which was very often burdened by poor harvest and inflation became apparent.
The first mention of potato growing in the region of Český Krumlov comes from the year 1758, when the Hunting Office (Jägeramt) in Český Krumlov sent to Hluboká a request for the purchase of potatoes. The writer says, that in Kvítkův Dvůr they are growing potatoes, which are to be used as feed for wild boar, and presents a request to buy potatoes from the Hluboká manor, so that they could also begin to plant them.
The growing of potatoes was hampered by the lack of practical knowledge and experience in their cultivation and usage. In the year 1791, Václav Friedl, the director of the Agricultural Office in Hluboká nad Vltavou, prepared exact instructions for growing potatoes on the Schwarzenberg estates. The instructions covered the subject of planting, harvesting, storing and the usage of potatoes as a fodder for animals.
The growing of potatoes expanded in the region of Český Krumlov only towards the end of the 18th century. During that period the suggestion also appeared, to use the former convent garden in Český Krumlov as a show piece of potato growing in the region of Český Krumlov, so that the attained information spreads into surrounding estates, and therefore increases the yields, which up to that time were unsatisfactory.
The interest in improving the quality and widening the type of potatoes variety grown, was led in the thirties of the 19th century to research planting, and producing new varieties in the Botanical Garden which was situated in the Jelení Garden in Český Krumlov. Up to March 1936, samples of 60 different varieties of potatoes were sent here from Bavaria. Today potatoes are one of the most common plants grown in the region of Český Krumlov.
(jz)