KKK

St. Filip and Jakub parish church in Přední Výtoň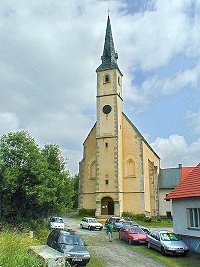 It has been a parish church since 1785. The first vicar was D. Schmidt. Originally it has been since 1385 a church of hermits from the Pavlans order, founded by Jan and Petr of Rožmberk. The church destroyed and burnt down the Hussites. In year 1592 has been monastery and church still left and so the clerical administration was taken over by monastery in Vyšší Brod. Total destruction of church was done by Swedish army. The parish memorials have been kept since 1786.
In years 1883 till 1886 was church renovated, arched again, new roofs were put onto church and towers, new equipment of inner part of church was provided. The church, mainly its interior was totally destroyed by the communists. It had been consecrated again on June 17 1995.
St. Filip and Jakub parish church is a late Gothic stone building. The interior has four fields with a chancel. From the South-western frontage rises a tower, to the South-eastern side of chancel is attached a sacristy. The building is supported by nine struts. The four-storey prismatic tower ends with a helmet. From the interior is still preserved just a granite moneybox from the 16th Century.
During vicarage Vyšší Brod was the parish Přední Výtoň the smallest one. Just in Přední Výtoni were 20 houses and 225 Catholics. To parish belonged only Hejrov, with 60 houses and 499 Catholics. Together were in year 1870 in the whole parish just 80 houses and 724 Catholics.
(fs)
Further information:
History of the Vyšší Brod Region
Přední Výtoň
Ecclesiastical Object in the Český Krumlov Region
St. Michael's parochial church in Horní Dvořiště
Parish church of St. Bartoloměj in Vyšší Brod
The Pavláns and pilgrimages in Přední Výtoň
The Eremites in Přední Výtoň