KKK

Karel Čapek
| | |
| --- | --- |
| (1890- 1938) | Writer, journalist |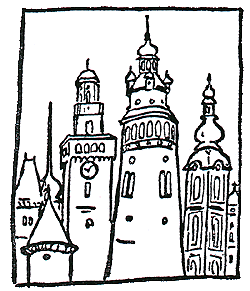 An author of a travel sketch called Along the Vltava River (a five parts picture, the first part called Český Krumlov, the second Vyšší Brod and Rožmberk). This sketch was published as a part of a collection called Pictures from the Homeland (1953).
"...I do not know how many times the Vltava meanders before you get through the town - doing so as directly as possible you will cross it about five times and each time you are surprised that it is so golden-brown and in a hurry. Neither do I know how many inhabitants Krumlov has, but there are twenty-four pubs, three churches, one castle, still two large town gates and a large number of monuments; in fact the whole town is one big historic monument which reminds one of Sienna or Stirling or other famous places. Well, there are old gables, bays, dormers, arcades, archs, galleries, battlements, sgrafitto, frescoes, stairs up and down, balustrades, fountaines, columns, corner stones, nooks, frame-works, maßhaus, underpasses, historic pavement, zig-zagging lanes, Bethlehems, high roofs, a Gothic church, Minorites and all over the place the red roses of the Rosenbergs, everywhere you stir you can see only picturesqueness and antiquity and historical fame, while in the old suburbs there are only low houses whose roofs you can touch with your hand, geraniums in the windows and the sign over the door, here old crafts are still alive as in the fifteenth century.
Everything is dominated (and really so after the Dukes of Eggenberg) by the castle over there and particularly the tower, one of the most towery towers which I have ever seen, I would say that towers are a Czech speciality because nowhere else can you find such strange cupolas, paunchy onion-domes, poppy-head cupolas, lanterns, stuck little turrets and galleries and spires as in this country; each old Bohemian town has its own particular tower by which you can tell that this is Hradec and this is Brno and this is Budějovice and this is Český Krumlov.
As concerns the castle, it is all decorated and covered with frescos inside as well as outside but the best of all is the little Baroque theater in which the old decorations still hang; an eighteenth century Italian opera could haunt this place at this moment but it does not because it is not allowed to perform here because of safety measures. Further there is the summer-house Bellarie with such funny stairs on the facade and lots of other Baroque things; for three crowns this is enough and to spare..."
Karel Čapek, Pictures from Home
(hj)