KKK

Jan Antonín Zinner
| | |
| --- | --- |
| (born 1708 in Vienna, died 1763 in Český Krumlov) | Rococo sculptor |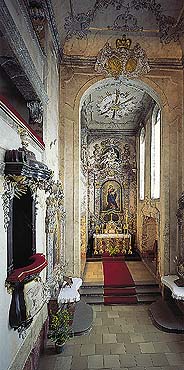 Student of Vienna Academy where he won his first award in 1731. In 1732 - 1737 he worked at the Counts of Questenberg in establishing the Baroque castle garden in Jaroměřice nad Rokytnou. On the 29th of April 1745 he received an award for some his statues created for the Schwarzenberg palace gardens in Vienna.
In 1745 he assumed all plaster and sculptural works for the newly constructed Castle Riding School in Český Krumlov as well as a contract for the creation of an epitaph of Marie Eleonora of Schwarzenberg made of black marble in the St. John of Nepomuk chapel in St. Vitus Church in Český Krumlov, plus creating a stone altar of St. Wenceslas in the castle chapel in Třeboň. In 1747 he came, on the invitation of Count Joseph Adam of Schwarzenberg, to Český Krumlov to create statues of St. Antonio of Padova and St. Wenceslas that were situated on the Cloak bridge from 1764. He supervised the repairs to the pond in the castle garden and worked as a sculptor on the renovation works of the Český Krumlov castle.
In 1749 he was nominated to the post of Krumlov garden supervisor. He supervised all building activities in the castle garden and also took care of all the necessary stonecutting and woodcarving works without any claim to a salary (e.g. wooden model of statues of St. George in the castle chapel, etc.). He worked under the building director Andreas Altomonte.
J. A. Zinner designed the statuary decoration of the Cascade Fountain. Statues and vases placed on it are common works of J. A. Zinner and Budějovice sculptor Josef Matyáš Griessler.
In 1750 he managed the works (on the plans of Andreas Altomonte) on the renovation of Český Krumlov castle chapel of St. George and created a model by which Mathias André created a plaster statue of St. George on a horse, located above the main altar. In 1754 Zinner created the main altar with allegorical statues of Trust, Love and Hope for the burned-out church in Volary.
In 1756 he created the statue of St. Felix of Cantalice for the Cloak Bridge in Český Krumlov. In the same time he worked on the statue of St. Joseph which was placed on the bridge over Bear moat.
For the front facade of the church in Postoloprty, built according to a project by Altomonte, Zinner made a wooden model of the monumental statues of St. Peter and St. Paul.
Further information:
Castle Lapidarium in Český Krumlov
History of Sculpture in Český Krumlov
History of Sculpture in the Český Krumlov Region