KKK

Soukenická No. 34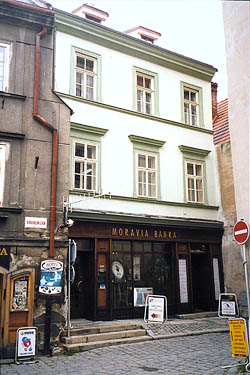 Location:
Soukenická No. 34
Description of the Building:
A two-storey row house with the facade devided by three axis in a conservative neo-Classical style, built on the site of a former building aside the street line. There are two smaller wings standing out in the yard section, the right one for the staircase. The house has a saddle roof with a crest parallel with the street.
Architectural and Historical Development:
Only the cellars from the former building have been preserved - they are of Gothic origin, the rooms above have flat ceilings, the front room is vaulted to the transverses, the staircase in the shape of a horseshoe leads to the upper floor. All originates from the break of the 19th and 20th century.
Significant Architectural Features:
Despite its new origin in a varied style surrounding of MPR (Městská památková rezervace - Municipal Historical Reservation) of Český Krumlov, the building is valuable especially for homogenous timing of its establishment. In 1993 there was some research work done and all the carpentry work, details, stencil decoration of the interiors, an interesting pre-war bathroom (the interior was newly adapted during the reconstruction in 1994 ) were explored.
History of the House Residents:
The first known owner of the house was a gunsmith Baltazar Rettig, then it was taken over later by his widow named Anežka. In 1582 a butcher Ambrož Mayer came to this house and then the butcher´s trade was inherited by his son Lorenc. In 1624 a strapmaker Mates Schwager shortly lived there, later succeeded by a bricklayer David Huml. He owned the house until 1661 when Šebestián Schmidtschlager moved there. The next owner of the house was Daniel Sitter who had it until the end of the 17th century and on the break of the 17th and 18th century the house was obtained by a scribe Vavřinec Josef Brauner. Since 1705, when a brewery is mentioned in the house, the building was the property of a baker Antonín Sarauer. In the years 1728 - 1783 there lived a knitter Filip Neubauer and after him a tawer Jan Jiří Bauerfeind whose family lived in the house at least to the 1840s. At the end of the 19th and at the beginning of the 20th century Marie Anderle was the owner of the house.
Present Use:
Café bar La Bohéme