KKK

Široká No. 84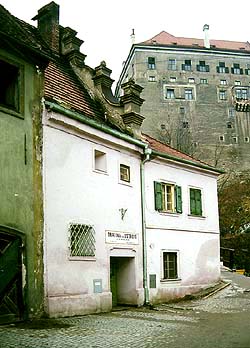 Location:
Široká No. 84 (presently a part of the house at Široká No. 85)
Description of the Building:
It is a one-storey building cut with a saddle roof with a front articulated by odd Classical arcades. The layout of the house is a two-aisle with flat ceilings on the ground and first floors. It is a modern house probably from 1835, neighbouring with No. 85.
Architectural and Historical Development:
The house was built as new probably in 1835. It neighbours with No. 85 and is registered under No. 85.
History of the House Residents:
There used to be a municipal stocking-knitter mill with a bath, established in 1777 and originally serving drapers. Then in 1804 it together with the neighbouring tawer mill was sold to the guild of tawers and drapers. The stocking-knitter mill was bought in 1819 by František Perutka, whose family used it until 1823. Then it was obtained by Josef Boehm. In 1835 the municipal land parcel was left to its owners to build a spa, called Mariánské.
Fotografie:
The state of the house before and after the reconstruction of the facade in 1996.