KKK

Široká No. 79
Description of the Building:
This used to be originally an inhabitable house, then was later changed into the town granary. The Rennaissance front is partly covered by the outlying house at Široká No.78. The original carriageway to Široká street, seen from the uncovered part of the house, creates the entrance to both houses No. 78 and 79. All the inner construction of the house used to be originally made of wood, but was completely changed during the last radical reconstruction in the 1980s. The bottom part of the rear elevation is created by a moat town wall. On the outer side of the wall on the left is situated a one-storey building, vaulted with barrel-vaults with or without lunettes on the ground and first floors. It used to be probably a bastion of the medieval fortification.
Architectural and Historical Development:
This was originally an inhabitable house. Its existence was first documented at the beginning of the 16th century. In the middle of the 17th century it was bought by the town council for public purposes and a town granary was established there, then the house was completely rebuilt for this purpose. As for the style of the building, we can classify it among out-buildings, which were built for the town by Domenico Benedetto Cometta z Eckthurnu. Today the inner layout completely differs from the original due to the last reconstruction in the 1980s.
Significant Architectural Features:
A moat town wall going through the rear elevation of the house.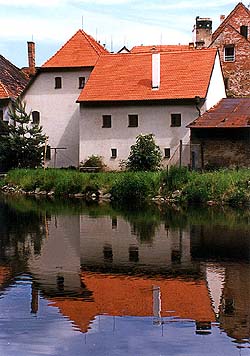 History of the House Residents:
From the beginning of the 1520s the house belonged to Jan Sumreir, then after his death in 1566 it was the property of his family until 1571. Václav Trubačka came there in that time, followed by Kryštof Kastner, called Trubačka, who owned it until 1587. Then Ambrož Kurzweil moved there. A furrier Lorenc Bruderle bought the house from him in 1590. Lorence´s widow Alžběta sold it in 1597 to Jan Kubíček. After his death in 1603 a soap-maker Blažej Tanzl bought the house and owned it to the second decade of the 17th century. In the mid 17th century the house was bought by the town council for purposes of the town. It was used as a granary and there was a flat of a municipal footman. In 1774 it served to stable draught horses and to store carriages and fire-engines which belonged to the town. From the beginning of the 19th century the house was rented to the imperial supply magazine and to private persons.
Present Use:
There are some offices of the Český Krumlov Municipal Authority.