KKK

Široká No. 53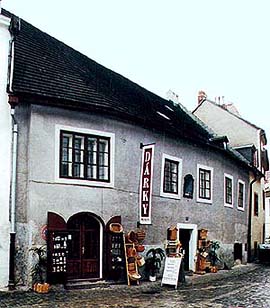 Location:
Široká No. 53
Description of the Building:
A Gothic-Rennaissance building which underwent some reconstructions in the Baroque period and in the second half of the 19th century. The one-storey house with an interrupted front is attractively set among other houses in the surroundings.
Architectural and Historical Development:
Today´s detached house was originally a part of the house No. 54 until the mid-18th century. It was separated in 1756. The core of the house is Gothic with some Rennaissance, then Baroque and Classical reconstructions. Its facade originates from the 1870s.
Significant Architectural Features:
The rough plaster of the interrupted front is attractively articulated by flat window frames. On the left side of the ground floor is a lowered vault over a rectangular ground space with lunettes; the hall was additionally divided by division walls. Two aisles with barrel vaults with lunettes at the front are added on the lower level on the right. The rear aisle is shorter because the neighbouring land parcel reaches to it; the front aisle reaches beneath the first floor of the neighbouring house.
History of the House Residents:
In the 16th century, as well as in the following era, the house used to represent a malting and brewing part of the large house No. 54 in Kájovská street. The house became a separate burgess house later on, in 1756. In that year a cloth cutter Franz Deska bought the back part of the house No. 54 and rebuilt it into a separate inhabitable house. After him the family of Khemmetters owned the house to the 1830s.
Present Use:
Gift Shop Galko, Segeš art shop and on the first floor is a flat.