KKK

Široká No. 52
Description of the Building:
The house with a renovated front, rebuilt in the Rennaissance style, has a late-Gothic core. It is situated in a narrow land parcel without a courtyard. The attic with battlement was added to the loft later on. A part of the attic on the protruding side has been preserved without backing. The building is situated above a slope, the ground floor sections are on the same level as the cellar of house No. 35 at the bottom of the courtyard.
Architectural and Historical Development:
The original building came about in the late Gothic period as a part of the present house No. 35. The house underwent a Rennaissance reconstruction and its internal layout originates from that time. The ground floor used to be linked with the cellar sections of the house No. 35. The facade was significantly reconstructed in 1967.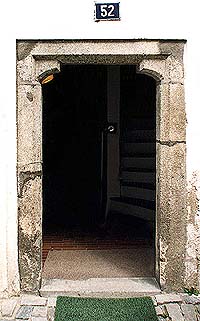 Significant Architectural Features:
The house is valuable especially as a late Gothic whole with Rennaissance reconstructions. A Rennaissance attic and a Gothic console portal at the front are worth mention. Its vaulted kitchen also attracts attention.
History of the House Residents:
The house used to be a malt-house and a brewery until the beginning of the 1580s. In 1521 it was bought by a certain Prokeš. A note from 1561 explicits that the house was a malt-house of Blažek Pergar, abutting to his own house No. 36 on Soukenická street. In 1584 the owner of the house No. 36 Šebestián Netolický sold the former malt-house to Barbora, a widow of Vaněk Schön, called Schönwankin. The house was bought from her by Kryštof Lepší as a separate unit in the same year. At the beginning of the 17th century Uršula Lepší was mentioned as its owner. In 1641 the house belonged to the house No. 54 Na louži. It was bought by Sofie Reichardt, who together with her husband Štěpán owned the house No. 54 from 1640. Both houses originally belonged to Hans Tanperger, who gradually sold them to the Reichardts. The house No. 52 was then inherited by a vicar Jiří Břeský from Svéráz who sold it to the municipality in 1706. From that year the house No. 52 represented a separate house, which was bought from the municipality by a royal footman Fridrich Schwarz. After him the house was owned by several burgesses from Český Krumlov of various different professions.
Present Use:
Granát and a shop U kašny - wood, ceramics, marionettes. On the first floor is a flat.