KKK

Široká No. 48
Description of the Building:
In addition to this two-storey house, which has a classical facade, the building also consists of a main building with a gallery situated on an oval vault with a toilet and a corner wing behind the land parcel no. 49.
Architectural and Historical Development:
The land parcel belonged to the house no. 41 in Soukenická street until the 1780s. Some ground floor vertical and horizontal constructions of medieval origin have been preserved up to now. Gothic vaulting has been preserved on the ground floor in the rear aisle of the main building and typical Rennaissance vaults on the ground floor of the rear aisle of the house no. 49. The originally Gothic building in the backyard, later renovated into Rennaissance style representing a part of the production base of the malt shop, was changed into an inhabitable building in the last quarter of the 18th century. The look of the first and second floors of the main building and its facade on the front wall are a result of a Classical reconstruction in 1789. During a reconstruction in 1962 the original layout of some ground floor sections was renovated.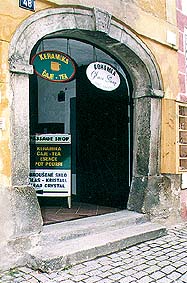 Significant Architectural Features:
In addition to the Classical street front there is an especially interesting entrance stone portal with an oval moulded framing, dated 1789. We can also consider important a ground floor vaulted chamber with a portal and both ground floor vaulted sections behind the house no. 49 with barrel vaults and lunette ridges.
History of the House Residents:
The year 1788 is an important turning point in the history of the house. The house was changed from a former out-building, which was a part of the house at Soukenická No. 41, into an inhabitable house. In that same year a tailor Jan Schimack sold the building together with half of the courtyard and a cellar to Šimon Stifter, who owned of the house at Soukenická No. 40, for 330 guldens. After the modification of the house into an inhabitable building in 1791 the property was booked down as a burgess house with the value of 2000 guldens.
Present Use:
Bohemia glass shop, Antiquity, accommodation