KKK

Široká No. 45
Description of the Building:
In all probability we can speak about this as an original gothic-rennaissance building, reconstructed in the first half of the 17th century in early-Baroque style, especially its facade and gable; the disposition of the interiors was also changed. The present look of the house represents a typical example of early-Baroque architecture in the environment of Český Krumlov.
Architectural and Historical Development:
The original building, standing on the site of the present house No. 45, was probably gothic, according to its built-in portal. We can notice that on the facade a rennaissance reconstruction was carried out - the basic layout of the ground floor can be considered Rennaissance as well. The present look of the house retains its basic elements of Baroque, gained during a reconstruction in the years 1676 - 1678. The house was built on the site of a former out-building that originally belonged, together with the present building no. 46, to the rear section of building no. 43 on Soukenická Street - the original town fortification walls were also utilized at that time. Early Baroque modifications brought mainly the vaulting, as well as the staircased hall, the cellar, and the facade of today\'s building no. 45.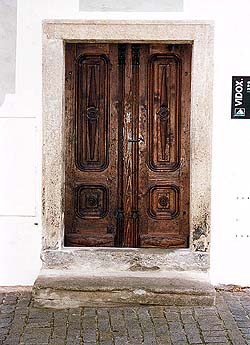 Significant Architectural Features:
Mostly the exterior features are worth mentioning - a symmetrical gable with rectangular side scrolls and with a tympanium. The windows are accentuated with scrolled stucco scrolls.
History of the House Residents:
The present land parcels of houses No. 45 and 46 belonged until the middle of the 17th century to house No. 43 in Soukenická street - there were out-buildings abutting onto the inhabitable part (a malt-house, a vaulted stable, a malt-kiln) and a garden. The local municipality of Český Krumlov bought this house together with No. 46 for 200 three scores of Meissen groschen. In 1682 the house was sold to a stocking-knitter Kryštof Premeisl for a fairly high price of 550 three scores of Meissen groschen. The textile trades, stocking-knitting and drapery, were run by the owners of the house to 1765; in 1772 a wheelwright´s was situated here.
Present Use:
Babyka - natural products