KKK

Rybářská č. p. 24
Location:
Rybářská No. 24
Description of the Building:
One-storey building with classical facade, a gable roof upright to the facade, gable with ponding haunch and frontispiece.
Architectural and Historical Development:
The layout has a corridor by the right edge on the ground floor, which has an oval barrel vaulted area with quinary lunettes. On the back is a cellar with a barrel vault scooped out from rock. The first floor has flat ceilings in all areas. The original estate comes, in all likelihood, from the first half of the 16th century, creation of the present building could be dated 1795. The first floor was built in Classical style together with implementation of vault in the ground floor. Further adaptations occurred in 1940 and 1944.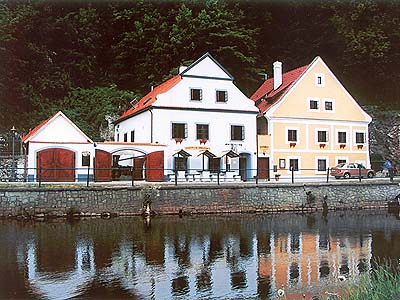 Significant Architectural Features:
A facade with ponding haunch and frontispiece gable.
History of the House Residents:
In the 1570's, the house belonged to a hewer, Vít. In 1584, Wilhelm von Rosenberg sold this house to Apolena, a widow after a shoemaker Bartl because it was devolved to him, "after the digression of Vít the hewer for his inappropriate behavior." Another owner was a currier, Hans Nitschko, who also owned the house next door, No. 26. After he died, in 1593, Kašpat Pergar bought the house. In 1595 the house was taken over by Alžběta Sagmilnerová. She occupied the house until 1602, when she was replaced by a currier, Řehoř Granisch. Six years later the owner of the house was a tanner, Ambrož Geisler. He was replace in 1614 by Jiří Fryberger. In the 1620's his widow Markéta took care of the house and in 1633 the ownership of the house was transferred to Matyáš Riedl. His family inhabited the house until 1675, then came a draper, Kryštof Weigl. From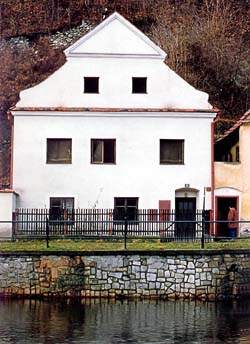 1718 - 1741 the owner of the house was a draper, Jiří Neupolt. Until the 1758 a tinsmith, Jan Jiří Raab lived here. The next owner of the house was a stove man, Martin Poth. From 1763 the house was inhabited by a knitter, Jan Spatz. In 1740 the house was damaged by a flood. In 1795, it was rebuilt by Adalbert Paukner. Further owners of the house include a labourer, a greengrocer, a furrier, soldier recruiter, and an ironmonger.
Present Use:
Pension and pub U Matesa