KKK

Rybářská č. p. 15
Location:
Rybářská No. 15
Description of the Building:
One-storey building on the side of a hill, facade with small windows.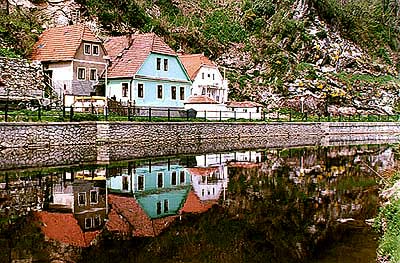 Architectural and Historical Development:
It was originally a Renaissance building, and the vaults are evidently original. Rooms on the ground floor are oval vaulted. The floor was additionally adapted. In 1792 or 1795 the house was separated from the house next door, No. 14.
History of the House Residents:
In 1792 Lorenc Burgstein, an owner of the house No. 14, gave an order to evaluate the newly bought part of the house, and in 1795, sold it separately to Jan Franz. Jan occupied the house until 1810, when he was replaced by Šimon Schuster and then František Wenk. In the first half of the 19th century, owners of the house changed rapidly: five years later came Egid Stroer, one year later Gabriel Bernard. In 1823 the house belonged to Josef Vít, who was replaced in following year by Žofie Matscheová (Máčová). Right after that Šimon Šítal became the owner. In 1827 Jakub Seifrits resided in the house, followed the next year by Josef Škoda. The house belonged to František Kuschel at least until the 1840's. In the 19th century, the owners of the house included a butcher, a bricklayer, a bakery journeyman, and in 1929, a pedlar.
Present Use:
Residential house.