KKK

Rooseveltova No. 29
Rooseveltova No. 29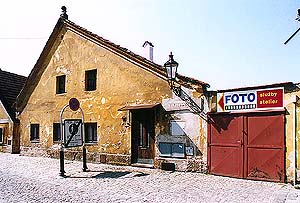 Location:
Rooseveltova No. 29
Description of the Building:
Building with L-shaped floor plan with Classic facade, built on the side of a hill. Rooms on the ground floor have flat ceilings. One of the rooms is oval vaulted. In the right part is a hall with a staircase. The floor at the level of the bottom terrace is barrel vaulted in the front tract with and without sectors. The rear tract has a flat ceiling. The annex is arched. Along the rear frontispiece with wooden gable runs a corridor. The cellar is hewn from rock underneath the adjusent.
Architectural and Historical Development:
The object originated in unknown times, but the contemporary condition of the building is evidently a result of a Baroque construction and Classicist expansion. The house is highly creative considering its position on the side of a hill above the Vltava River. Its location on the side of a hill makes it a consequential part of the urban panorama.
History of the House Residents:
At the end of the 1530\'s in all likliehood this house belonged to a draper, Jakeš (Jakub) Nindrtaim (or Nyndrtom). After Jakeš\'s death at the end of the fifties, the owner of the house became lesser-known Řehoř Kern, who was declared here in 1569. In 1575 the house belonged to a bricklayer Pešek, whom 10 years later relieved a labourer Vaněk (Václav) Lověšický. Vaněk died in 1618 and his widow Ludmila sold the house to Jakub Měsíček in about 1619. From 1664 to 1687 a court paver Jiří Widtmann (or Wittemann) is alleged to have owned the house, after whom the house was inherited by Anežka Widtmann. From, around 1700 - 1725 a miller Vít Kirwischt lived in the house and after him Florián and Žofie Zwettlerovi. From 1757 we have here Pavel Gänger, whose family lived in the house until 1813. The family replaced Jan Stifter, after whom Antonín Probst lived here shortly in 1824. From 1825 until at least the 1940`s the house belonged to Anna Kohoutová.
Present Use:
The house provides Medieval-level building conditions, but with electricity already installed!
Residence of the president of the firm Rumyší díra