KKK

Horní No. 26
Location :
Horní No. 26, Barbakán
Description of the building:
The building, actually created from two buildings, was built on several levels on the slope above the Vltava River. The Baroque-Classicist facade follows the receding line of Horní Street. From the Vltava as well as from the canal known as Myší díra (Mouse hole), are massive bastion-type walls. At the level of Horní Street, the building is two-storeyed with a Classic triangular gable ending in volutes. Both buildings have corresponding types of gables, and between the buildings an entrance into a courtyard is visible. The building has been recently reconstructed, and the dormers on the roof are new.
History of the Construction:
Today's relatively complicated structure was likely built in several levels on the site of an older structure in the 18th century. Other designs are visible from the 19th and 20th century. The entire structure was significantly reconstructed in 1996.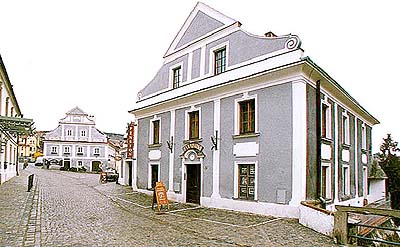 Significant architectural details:
Classical gables of both buildings, cellars, terraces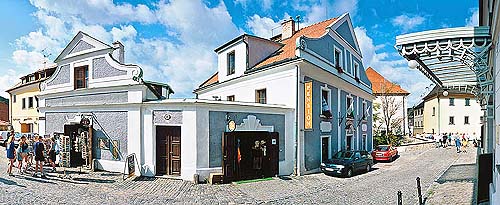 History of the residents:
This building, it's origin quite unknown, once served as the town's gunpowder-house. in 1789 it was rented to a certain Kobinger, and on the 17th of June 1800 the town sold it to Josef Ziehfreund to build a house for 200 gold-pieces and interest of 30 kreutzers. Permission to build was, however, given by the magistrate a year later. In 1802 the house belonged to Anna Pfister, and her descendants owned the house in 1804-1834. The owner until 1840 was Václav Blechinger, who was replaced by Antonín Watzl.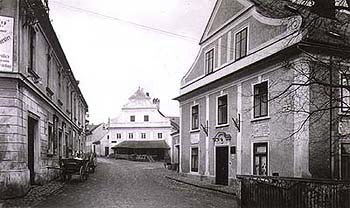 Present usage:
Bed and Breakfast Barbakán and Tavern Barbakán,
Shop with clothing and oriental goods Ria INDIA