KKK

Parkán No. 110
Description of the Building:
One-storey building with a smooth facade. Only the windows on the first floor and the portal have Renaissance ribbon-shaped stucco decoration. The gable roof is parallel with the street and is covered with tiles. The rear facade is the former town wall.
Architectural and Historical Development:
The building was created in the late Gothic period, the first information about it coming from 1522. A narrow front wing was added, the construction and layout of which is very unusual. The house was deepened in the late Renaissance period, which is witnessed by the window´s stucco decoration. It is believed that the originally shallow wing witnessed a stone gable on the loft. Marks of the receded construction line are preserved on the facade of the house Parkán No. 112.
Significant Architectural Features:
The entire ground floor is barrel vaulted. The historical layout is essentially preserved.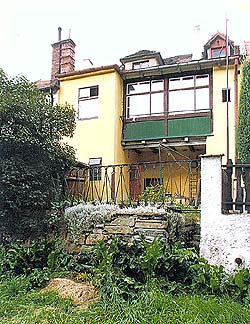 History of the House Residents:
The first known owner of the house was a tailor named Adalbert, who sold the house to a weaver, Mikuláš. In 1522 the ownership of the house was transferred to the city. In 1568 a shoemaker, Štefanová, owned the house for a short time. After Štefanová, Martin Prachatitzer or Prachatický moved in. In 1582 the house was occupied by a weaver, Petr Würtenberger. Four years later he was replaced by a carpenter, Lorenc Hirschberger. After Magdalena Hirschbergerová, who was allegedly the owner in 1654, the house was transferred to a draper Leonhard Engelhard. He lived in there until 1660. After Maxmilián Brauner died in 1690, the city bought the house and established a hospital for those suffering from artillery wounds there. From 1774 the house was used as a hospital for poor citizens and foreigners. On April 2, 1789 the city sold the house to a miller, Ignác Pöschek, for 765 Rhinish golden coins. The Pöschek family resided in the house until 1835.
Present Use:
Residential house.