KKK

Parkán No. 109
Description of the Building:
This one-storey narrow building on a deep allotment has a smooth facade with a ribbon segment vaulted portal. Along the rear facade, which is a former town wall, is a corridor. On the ground floor is an annex with a joist ceiling and a terrace. The frame is joined with the adjacent building Parkán No. 108. The front part is additional.
Architectural and Historical Development:
The right stone gable, preserved on the loft, and additionally mured up, encourages the report from the 19th century about a date 1483 on the chimney. If the gable didn\'t belong to the next door house Parkán No. 110, deepening in two stages happened in the street. On an inaccurate plan from 1826 the house does not come forward. Before the facade of the neighbour No. 108 is a distinctive gap. The house was adapted in Baroque style. The last extension into the street took place in the 19th century.
Significant Architectural Features:
Beyond the facade are especially valuable vaulted rooms on the ground floor and a black kitchen on the first floor.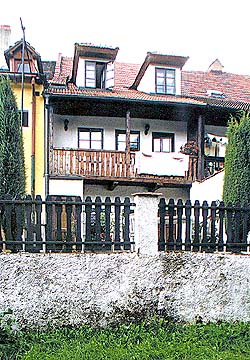 History of the House Residents:
The first known owner of the house was a millers son, Šteffel. He sold the house called the tower in 1519 for 94 threescore of Meissen groschers to a colourman named Zikmund. In the 1520`s and 1530`s a weaver trade was conducted here. In 1530 the house belonged to a twister, Tomáš Bláha. He was replaced by Petr Sudek from Dlouhá in 1551. After he left the house was acquired by his brothers Jan, Jindřich, and Samuel. In the 1560`s a butcher, Tomáš Ellenitzer, lived there. In the period between the 1570`s and 1580`s, the house belonged to a malt maker, Jiří Landsknecht. In the 1590`s a tailor, Jošt Schmid, resided in the house. He was replaced by a saddler, Voršila Petrová. In 1600 the house was occupied by a carpenter, Šimon Schuhmacher. In 1624 a spur maker, Jiří Jäm, lived in the house for a short time. One year later a butcher, Lorenc Mayer, moved into the house. He was replaced in 1635 by a gun-stock maker, Ondřej Niekhl. After that the house was empty for some time. From 1655 - 1688 a weaver, Ondřej Pauer, resided in the house. We don\'t have any further information about the owners.
Present Use:
Residential house.