KKK

Náměstí Svornosti No. 8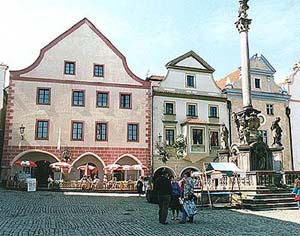 Location:
Náměstí Svornosti No. 8
Description of the Building:
This two-story building, which is situated on the corner of Svornosti Square and Zidovska Alley, has got a main facade that originates from the 1840s. On the ground floor of the smooth front wall, three pointed arches mark the entranceways into the arcade. The two-tract interior of the building has got vaulting that is from various decorative stages from the Gothic to Classical periods. The rooms on both floors of the building have flat ceilings. Under the front and center parts of the building are cellars with stone vaulting. The newer back building, which is situated on a downward slope, and is separated from the original front building by a courtyard area, has also got a two aisle layout. This build was constructed in 1910.
Architectural and Historical Development:
The building is originally Gothic. Proof of this can be found in the deep, two-aisle layout which was typical at this time. The original object was only one-story. When Renaissance reconstructions were made in the middle of the 16th century the covered walkway and apparently the second floor were added to the building . The building underwent radical reconstruction in the 1840s. The back building was added to the structure c. 1910. A major renovation project was carried out from the years 1981-1985. It was at this time that the gable wall was set into place.
History of the House Residents:
This building was one of the first aristocratic buildings in the city. It belonged in the year 1510 to the former Rosenberg civil servant, Mikuláš from Pelhřimov. He then sold the building in 1521 to a businessman from Salzburg, Sebastian Weinnar, who came to Český Krumlov as a mining entrepreneur. In the year 1540 the building was bought by a German mining entrepreneur and about five years later was sold to Linhart Singerspiler, also known as Goldsadar, who was a gold appraiser and metallurgist. The building was in the hands of his relatives until 1598, when the last member of the family, gold examiner, Tobiáš Singeršpiler died of the plague. The building was then purchased by the Rosenberg accountant and later by Jan Nygrín of Švorcpach, who was the tax clerk and district administrator of the Český Krumlov nobility. It is documented that the building was used to brew and serve beer up until the year 1654. From the following year the brewery scribe lived here (from the brewery of today\'s Černá v Pošumaví), Tobiáš František Koller. The house belonged to the Koller family up until 1708.
Present Use:
Buffet Confectionery, Bed and Breakfast Krumlovská fontána
krumlov-reisen