KKK

Masná No. 137
Location:
Masná No. 137
Description of the Building:
One-storey building with a not very remarkable modern layout. Both the ground and the first floor have flat ceilings, only the cellar areas have vaulted ceilings.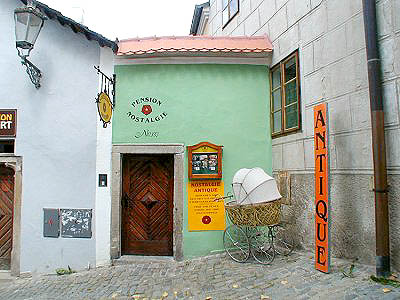 Architectural and Historical Development:
The building was apparently built between two already existing neighbouring houses at the beginning of the 16th century. During the Classical period it went through a radical reconstruction which gave it a new Classical facade. During a recent reconstruction the original Renaissance facade was renewed.
History of the House Residents:
In 1529 a butcher named Beneš moved into the house from the adjacent house No. 136. He died in 1534, and until the middle of the 1540\'s his widow took care of the house and the butchery. In the second half of the 1540\'s, the house belonged to a butcher named Ambrož. At the beginning of the 1550\'s, Ambrož sold the house to a hatter, Felix. After he died in 1560, the house was left to his wife Ludmila. She got married again to another hatter named Jiřík. He took care of Felix\'s children Zikmund, Matouš and Mariana. In 1575 the house was bought by a butcher, Jíra Šimek, who already owned the house next door, Masná No. 136. Šimek owned both houses until he died in 1602 (or 1603). According to the last will, the house was inherited by the Český Krumlov Clarrisian convent. In 1604 the convent sold the house No. 137 to a draper, Kašpar Preuer. In 1624 a butcher, Matouš Zemperl moved into the house, and in 1630 was replaced by a weaver, Michal Pernsteiner. He owned the house until 1654. Later until 1683, the house was occupied by another weaver, Petr Geissler. After him the house was acquired by a glazier, Pavel Landgraff. During 1696 - 1700 a princely personal coachman, Václav Štěpán, lived there. Until 1741 a shoemaker, Valentin Schöbl, inhabited the house. During 1741 - 1808 the house was occupied by crouppers. The first one was Jindřich Ledermüller. Since 1766 the Šimon Krenauer family inherited the trade. We don\'t know if the trade was conducted by Josef Krenauer who lived in the house until 1810. Another owner of the house was Josef Jungwirth, who resided in the house until at least the 1840\'s.
Present Use:
Residential house and Bed and breakfast Nostalgie.