KKK

Masná No. 133
Description of the Building:
Two-storey building with a smooth facade. The layout has one wing. The ground floor is partly embedded into the ground. The staircase area on the left has flat ceilings. On the right is an area with a lower level which is barrel vaulted from bricks. The first and second floors on the facade are lifted up on wooden cantilevers, and have an analogical two wing layout. The second floor is from logs. The rear facade is on the ground floor, partially upstairs is part of the former town walls.
Architectural and Historical Development:
The house is of Gothic origin and existed before 1511. Its original layout has been preserved until the present time.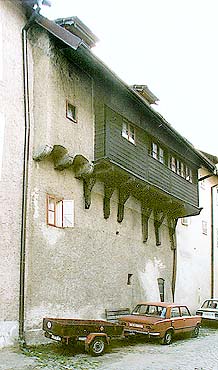 History of the House Residents:
In 1511 a tailor named Kliment bought this house from a draper, Michal, for 57 threescore of Meissen groschers. In 1566 a shoemaker, Wolf Pils, resided in the house and three years later was replaced by a furrier, Tomáš Hösslinger or Hesslhover. During 1581 - 1587 the house belonged to a shoemaker, Ambrož Pils. Another owner of the house was a tailor, Jiří Schön, who owned it until 1638. During the next four years, Juliana Freislová took care of the house. In 1642 a malt maker, Pavel Kegler moved into the house, and during 1679 - 1715 the house was occupied by a furrier, Ondřej Potschke. Another owner of the house, Václav Motz, was also a furrier. From 1742 until at least the 1840`s the house belonged to the Aipl family - Antonín and Tomáš. They lived there from 1760 - 1802 and conducted a stockings trade.
Present Use:
The building is not used at present.