KKK

Masná No. 132
Description of the Building:
Two-storey building with a smooth facade. The second floor is centered on the left axis. The right window on the second floor is skewed, Gothic. On the second floor is a modern bow-window from the rear facade. On the ground floor is a barrel vaulted area with a fireplace and smaller staircase hall. On the first and the second floor are rooms with flat ceilings. On the second floor, which has log walls, are odd semicircular arcades with skewed edges. The rear facade on the ground and the first floor is from the former town walls from the 14th century.
Architectural and Historical Development:
The house is of Gothic origin, with preserved layout and unhung bulwark floor.
History of the House Residents: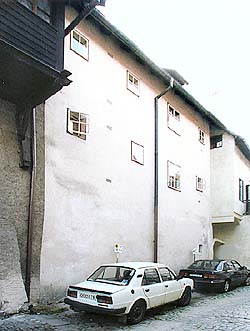 We don\'t know much about the first owners of the house. From the 16th century we know the name Ondřej Teininger, after whom took over the house Anna Teiningerová and Florián Ranner. In 1587 the house was occupied by a tailor, Zikmund Schwingnhammer, and two years later, Benedikt Pehen or Pehna, probably a Swiss bricklayer lived there. He exchanged his house in 1596 with a saddler, Mates Schmider, for house No 128. Later, a hatter, Kašpar Wolf, moved into the houseand was in 1614 replaced by a saddler, Jiří Kheben. In the time frame of 1618 - 1636 the house belonged to Martin Schisslkorb, and after him Anna Haidelpergerová, previously Rudnerová, took care of the house. In 1656 a court saddler, Ondřej Langer, lived there, and his son Adalbert, inhabited the house until 1693. Until 1706 the house belonged to an old imperial munition maker, Ondřej Pauer, actually Regina Pauerová. During 1706 - 1713 the house was owned by a lace maker, Matyáš Dorna, who moved into the house No 128. Afterwards a butcher, Jáchym Streinitz acquired the house, and from 1728 the house was occupied by František Hochköffler. In 1773 the house belonged to a locksmith, Adalbert Schmidt, whose family resided in the house until at least the 1840`s.
Present Use:
Secondhandshop "Sekáč"