KKK

Masná No. 130
Description of the Building:
One-storey building with a smooth floor plan and fractionated facade. Its left part on the first floor is held up on granite cantilevers. On the ground floor is a staircase hall, barrel vaulted with lunettes, and on the right is an area with flat ceilings. On the back of the first floor is a narrow hall, on the right is a black kitchen with a chimney. A bigger front wing contains a bigger room on the left, lifted up on the facade and additionally divided by a division wall with a freely carved ceiling. The ceiling is supported by a bearer with a carved braid. On the right is a room with a flat ceiling. The rear facade is on the ground floor which is composed by town walls from the 14th century.
Architectural and Historical Development:
The house was built in the late Gothic period before 1530. After the Renaissance reconstruction the layout and facade were preserved.
History of the House Residents:
From 1530 the house belonged to a butcher named Hansel, who was in 1573 replaced by another butcher, Václav Rieder. Later, František Aneiss acquired the house. From his family came a number of Český Krumlov painters of the 17th and 18th century, working also for the Český Krumlov castle.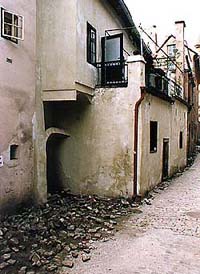 In 1601 Václav Lopatka lived there, and three years later the house was inhabited by Řehoř Tanzl. From 1612 - 1637, Jakub Steauff was the owner of the house, and until the middle of the 17th century the house was occupied by Vilém Zillner and Hans Pachmayer. From 1654 a saddler, Vít Wolf, lived in the house and during 1662 - 1676 Caesar Cassal and Bartoloměj Bulla, who were originally Italian bricklayers, owned the house (from 1669). Until 1700 a weaver, Jan Paukner, owned the house, and from him Tomáš Postl bought it. In 1733 - 1744 the house belonged to Matyáš Neubauer. Until 1824 the house was occupied by butchers - until 1786, Ignác Foitl, than František and Jan Koidl, and from 1819, Jan Handschuh. Until at least the 1840`s the house belonged to Josef Kretschmer.
Present Use:
Gallery Ars