KKK

Latrán No. 95, V jámě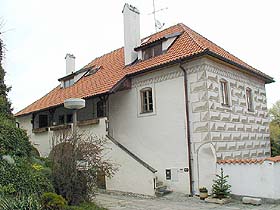 Location:
Latrán No. 95, V jámě
Description of the Building:
Two story house with a wooden gallery behind the stairway. There is square sgraffito on the facade and a five-petaled rose above the windows on the side of the house facing the river.
Architectural and Historical Development:
The house was built around 1600 in connection with the enlargement of the city by adding the Budějovické subrub and building new fortification. Besides the sgraffito, only the room on the ground floor with a barrel vault is valuable, later divided by division walls.
History of the House Residents:
The first written record is from 1633 and states that the house was owned by a man named Stáský or Zdaska. Three generations of the Weisskrammer family lived in the house since 1643. However, it seems that from 1703, while Ondřej Weisskrammer was supposedly living in the house, it was most likely empty for a few years. Lorenc Mašek lived here from 1752 to 1784. Many people lived in the house after that, but there is no detailed information about them.
Present Use:
Accommodation Pecha.