KKK

Latrán No. 9, castle stairs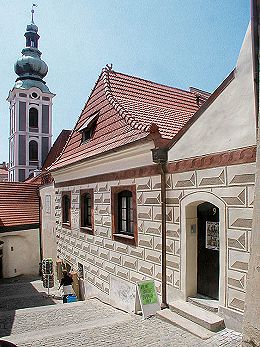 Location:
Latrán No. 9, castle stairs
Description of the Building:
Two story building with a sgraffito facade.
Architectural and Historical Development:
The house was built before 1551, during the late Gothic period. It underwent a Renaissance reconstruction between 1551 and 1556 and also around 1572. The present day appearance comes from the beginning of the nineteenth century. There is a hall with cross vault with groins on the ground floor, vaulted chamber and a room with a barrel vault and pentagonal lunettes on the second story.
Significant Architectural Features:
Part of the cross vault with groins is preserved on the ground floor. There are Renaissance window carrels on the second story. The letter-shaped sgraffito facade is signed and dated 1572. The facade was restored in 1989.
History of the House Residents:
Rope-maker Wolfgang, originally from Rožmberk nad Vltavou, owned the house in the 1540s. In 1551, he sold the house to Rosenberg courtier named Burian Litvín, who ordered a complete reconstruction. A year later, he presented the refurbished house as a gift to his wife Mariana from Běšiny.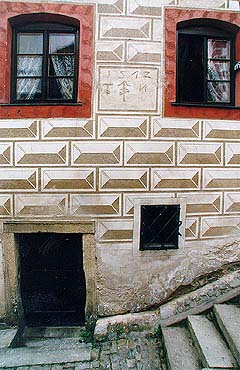 In 1556, he sold the house to Melichar Stolinský from Kopisty, who was the governor of Wilhelm von Rosenberg. Burian Litvín probably lost his wife shortly before selling the house, as he remarried in February 1556 in Jindřichův Hradec with Maruše Valovská and then left Český Krumlov for good. Melichar Stolinský died around 1577 and the widow Markéta sold the house to barber-surgeon Ondřej Bischof. Strap-cutter Wolf Saumer owned the house in the 1580s and died in 1586. His wife Kateřina who later married a man named Trumpelműllner held the house until 1600. In 1618, pension clerk Kvirin Fischer moved into the house for two years, followed by cloth-maker Mikuláš Winkler and sculptor Hans Reitenberger in 1625. Zachariáš Watzl, purveyor to the prince, lived in the house since 1707. Among other eighteenth century owners were chimney-sweeper Florián Alt and innkeeper Martin Fuchs.
Present Use:
Bed and breakfast U Zámku