KKK

Latrán No. 89, V jámě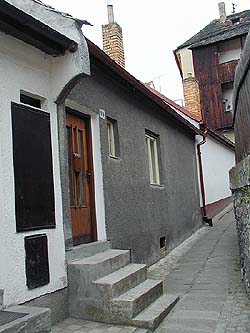 Location:
Latrán No. 89, V jámě
Description of the Building:
One story house standing on a sloping terrain with a plain modern front and modern interior layout in the lowered ground floor with joist ceiling. There is a wooden gallery on the rear face of the house. The house was most likely built during the Classic period on older foundations and was modernized.
History of the House Residents:
In the beginning of the seventeenth century, the house was owned by Šimon Fuch of Fuchýřov who sold it in 1627 to Michal Procházka. The Procházka family owned the house until 1700, when Šimon Kőpel moved in. Miner Antonín Pruschl and rope-maker Josef Pruschl lived here between 1725 and 1730. There is no information available about other tenants or owners.
Present Use:
Residential house.