KKK

Latrán No. 87
Description of the Building:
One story building with a plain facade standing on sloping terrain with three-fold windows that open inside. In the back, there is a wooden gallery with a glass front. The double-pitched roof is parallel with the street and there is a stone ball at the top of the left gable. There is a terrace in the rear right part of the house.
Architectural and Historical Development:
The house was not standing in 1654, so it must have been built during Baroque. Its existence is recorded in 1826. The house was modernized and the rear wing added in 1931.
History of the House Residents:
The first known owner of the house was Michal Kaintz in 1694. Five years later, Magldalena Kaintzová lived in the house, but her married name at that time was Schafferová. Tomáš Schaffer owned the house from 1720 to 1775. The Kitzhofer family lived here from 1775 until at least the 1840s.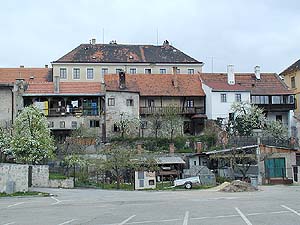 Present Use:
Textile, toys - U Budějovické brány