KKK

Latrán No. 78
Location:
Latrán No. 78

Description of the Building:
This large house with a double-pitched roof and a wing with a carriage-way was originally adjacent to the Latrán gate (see History of gates and fortification of Český Krumlov).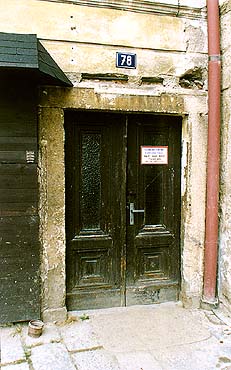 Architectural and Historical Development:
The house is located on a medieval plot and originally stood outside the old perimetrical pattern. The Latrán fortification was enlarged during maybe the fourteenth century. The outer walls of the house used to be a fortification, the defense walkway used to be on the same level as the second story. The cellars were built during the Middle Ages. Hearting of the walls probably dates back to Renaissance, the facade plaster covers sgraffito. Reconstruction took place in 1764. It was immensely difficult, both in the interior and on the facades. The house was rebuilt into a Rococo city palace and was probably used for social and formal occasions. It is probably the result of work by an architect from the Schwarzenberg circles. The end wing next to the Claretian convent was built during the late Baroque period. The wing enclosing the courtyard is probably the result of a reconstruction of an older building based on a 1799 plan. The roof of the building was additionally modernized.
Significant Architectural Features:
House No. 78 is one of the most remarkable buildings of its kind in the city. Many original details were preserved - door lining, doors, ironwork. The first story spaces have barrel vaulting with triangular or pentagonal caps. A monumental stairway leads to the second story. The stone cellars are vaulted. The vault of one of the rooms is supported by an asymmetrically located central column.
History of the House Residents:
It is possible to trace the origins of the house back to the second half of the sixteenth century. The first written record is from 1640 and states that the house was purchased by Juliána Wunderová from a man named Adam Mazouch. Widow Juliána Wunderová sold the house in 1653 to the chief forester of the principality Jan Jiří Koch who paid 335 three scores of Meissen groschen. Servant to the prince Kašpar Kunkel who managed the castle kitchen bought the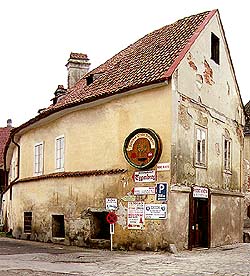 house in 1661. Kašpar\'s son Florián Kunkel, the chief magistrate, owned the house from 1694 to 1710. Clerk Jan Lang moved into the house in 1739. The Pinskers, a well-known Krumlov patrician family owned the house from 1764 to the beginning of the twentieth century. In 1799 a new wing was added to the main building in the direction towards house No. 77. In 1819, the house received the privilege to brew beer. In the time between 1848-1852 the Outer Latrán Gate, which was tighly connected to No. 78, was demolished.