KKK

Latrán – Klášterní No. 45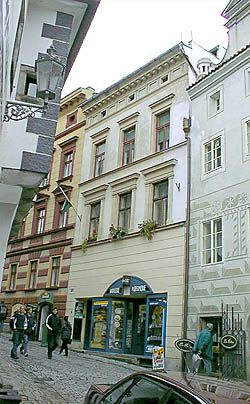 Location:
Latrán - Klášterní No. 45
Description of the Building:
Two story building with a 1892 neo-renaissance front. In 1932, oriels and cross bars were added in the rear.
Architectural and Historical Development:
The hearting of the walls is from the late Gothic period. The cellar, side walls and probably also a part of the front are the only remaining gothic elements of the house. The house was rebuilt after a fire in 1891. Other modifications were carried out in 1932.
Significant Architectural Features:
The late gothic cellar is very interesting; it has barrel vaulting with caps ending in a small central stone column.
History of the House Residents:
Michal Rabas lived here in the beginning of the sixteenth century. He was also the owner of the big granary in the New Town which was later turned into a residential house (Latrán No. 33). Tailor Toman purchased the house from Rabas in 1516 and lived here until 1535. Tailor Urban lived here after Toman and then sold it in 1570 to Rosenberg trumpeter Řehoř Schamper. Řehoř paid off the house in 1586 which was confirmed by Urban\'s wife Voršila. Schamper died in 1601, leaving the house to his wife Salomena. In 1602, the city council sold the house to goldsmith Vilém Šlecht. In 1625, barber Václav Koperger moved in and in 1634 sold the house to Martin Pirger. Bakers Martin Habert and Albrecht Kore or Karre (a purveyor to the court) lived and worked in the house between 1644 and 1676. Jan Pelder owned the house from 1704, followed by weaver Josef Grill who lived in the house until 1736. Wig-maker and merchant Veronika Thomasová lived in the house from 1763 to 1785. Merchant Zikmund Kobinger then purchased the house and the Kobinger family lived here at least until the 1840s.
Present Use:
Druggists Teta. The second and third stories are residential.