KKK

Latrán No. 30, Dobrkovická Street
Location:
Latrán No. 30, Dobrkovická Street
Description of the Building:
Two story building with a plain facade. There are rooms vaulted in several stages on the ground floor. On the second story, there is the only room with a vault. There is no cellar.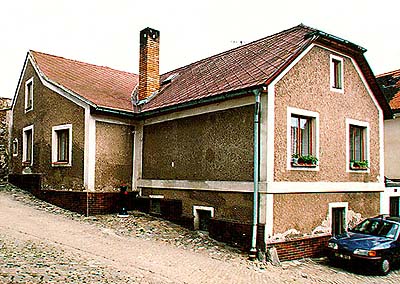 Architectural and Historical Development:
The house was built during Renaissance by attaching it to the outer wall of the monastery. The house was modified during Classicism. The northern wing has been expanded.
Significant Architectural Features:
Especially the vaulted spaces are valuable. The oldest vaults date back to the Renaissance.
History of the House Residents:
Since the 1540s, the house is owned by equerry Havel who died in 1566. His wife Voršila then lived in the house with her grown children Matěj, Vaněk, Vavřinec, Kryštof, Matyáš, Kristina, Mariana and Alžběta. She married miller Pavel and then the house was owned by Jan Ledenický and Zikmund Schwingenhamer for a short while only to be acquired by the last of the Rosenbergs. In 1593, Petr Wok von Rosenberg gave this so-called Havlovický house to Dorota Reisová as a compensation for her house that was to be torn down to make room for an armory. Dorota lived here until 1609, when she sold the house to Mark Riess. The house registration of 1654 states that this house is empty. From 1686, cloth-maker Has Weigl lived here. Between 1758 and 1761, the sculptor Josef Muk lived here, followed by a cook named František Hirschberger. The Šťovíček family owned the house from 1798 to the half of he nineteenth century.
Present Use:
Residential house.