KKK

Latrán No. 13
Description of the Building:
A large complex of buildings adjacent to the St. Jošt church in Český Krumlov that used to be a hospital or rather a shelter for the poor and elderly employees of the Krumlov manor. There are two wings shaped like the letter L, they both have two stories and a Classicist facade from the last quarter of the eighteenth century. There is also a courtyard with a modern fountain and a building with a store inside. There is also a Classicist gate leading to the courtyard that has the alliance coat-of-arms of Johann Christian I. von Eggenberg and Marie Ernestine von Eggenberg.
Architectural and Historical Development:
The building is an adaptation of the former hospital carried out by Petr I. von Rosenberg between 1317 and 1334. The oldest part is the Western part of the South wing adjacent to the St. Jošt church in Český Krumlov, as its peripheral wall was a part of a medieval fortification wall. The East wing, originally perhaps a building of husbandry, underwent a Renaissance reconstruction between 1596 and 1599. The Baroque reconstruction (1708 - 1710) made use of the older buildings. Further adaptations carried out during the first third of the twentieth century concerned mainly the street wing of the complex.
Significant Architectural Features:
The Classicist facade and courtyard gate. Also the first story space with cross and barrel vaults with caps.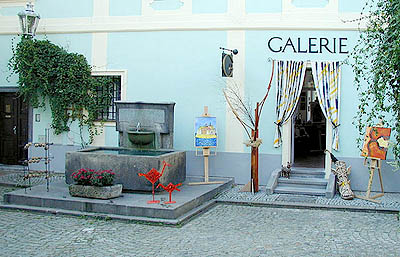 History of the House Residents:
According to the founding papers of the hospital from 1347, it was originally to accommodate 13 people but was expanded in1364 to accommodate 17 people. A manor in Špičák (there are residential buildings and a heating plant today) was a part of the hospital that was supposed to supply goods to it. Deceased inhabitants of the hospital were buried at the expense of the Český Krumlov estate, during the seventeenth century in the St. Martin cemetery. After Johann I. Christian von Eggenberg and his wife Marie Ernestine von Eggenberg ordered reconstruction (1708 - 1710), the hospital served 24 people. During the second half of the nineteenth century, some of the inhabitants of the hospital were servants and pensioners of the estate. After the first land reform in 1922, the hospital was discontinued and in 1936 rebuilt into a regular house, and later an inn was added.
| | | |
| --- | --- | --- |
| | | |

Present Use:
Papa\'s Living Restaurant, Gallery Art, Goldsmith Toni, clothes, Pavor Glas studio, Sabina Bohemia