KKK

Latrán No. 10, castle stairs
Location:
Latrán No. 10, castle stairs
Description of the Building:
Two story building with a newly modified front.
Architectural and Historical Development:
The house dates back to the late Gothic period, it was partially reconstructed during Baroque and in the nineteenth century. The ground floor constitutes of a space with a barrel vault, and there is a room with a Renaissance carved ceiling on the second story.
Significant Architectural Features:
Renaissance carved ceiling on the second story with its downstand beam decorated with a guilloche frieze.

History of the House Residents:
It is likely that tailor Jiří lived in the house in the beginning of the sixteenth century. Sword-cutler Filip who we do not know much about lived here sometime in the 1570s or 1580s. After his death, his wife sold the house in 1585 to Dorota, the widow who previously lived with her late husband, the barber-surgeon Wolf Eisenfeind, in the Dlouhá No. 98 house. When Dorota died in 1586, the house was purchased by shoemaker Petr Celt, who was born in the Horní No. 150 house. Ondřej Byttory owned the house from 1599 to 1616, along with the Latrán No. 15 house. Tailor Ambrož Lorenc owned the house until 1647. Also the subsequent owners were tailors - the house was owned by the Webers, a family with many tailors, from 1663 probably to 1780.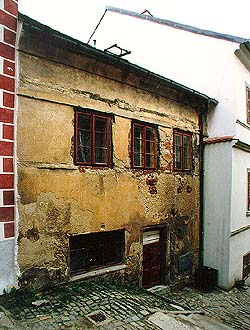 Present Use:
Accommodation Jiřina Kozáková and Souvenirs - wooden products.