KKK

Kostelní No. 169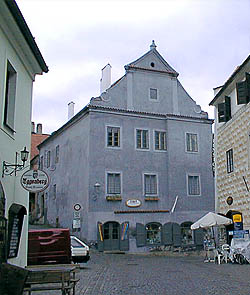 Location:
Kostelní No. 169
Description of the Building:
The main street front is completed with an oblong gable with side volutes and a tympanum. The side front is newly renovated, not articulated. The entrance staircase goes through a granite portal with ribbon decoration with the date 1691 and with an engraved outline of a coat-of-arms. The layout contains some barrel-vaulted rooms, but most are rooms with flat ceilings. The cellar with stone vaults is partly dug into the rock under the street.
Architectural and Historical Development:
The originally Gothic house was added to Kájovská Gate - Inside in the Middle Ages. A Rennaissance reconstruction was probably carried out in 1560 and an early-Baroque reconstruction took place in about 1691. The second floor was added before 1728, and the house was Classically reconstructed at the end of the 18th century. In 1842 the gate was knocked down and the present gable was probably built up. The house was renovated in the 1960\'s.
Significant Architectural Features:
Gothic portal with the date and coat-of-arms.
History of the House Residents:
In 1518 a certain "old Turnovská" sold this "house on stone" to a shoemaker Mikuláš for 80 three scores of Meissen groschen. After Mikuláš the house was gained by marriage by a butcher Petr and after his death in 1560 it was sold by the town council to a furrier Lorenc for 210 three scores of Meissen groschen. He exchanged the house with a carpenter Stanzl in 1574, who sold it to Jan Högler in 1578. Guardians of his orphans sold the house in 1622 for quite an unusually high price of 390 three scores of Meisen groschen to Jiří Ufhauser. He died without heirs in 1626 and the town council sold the house to Markéta, a widow after a draper Matěj Stolz. She handed it over as a dowry to her second husband, a hatter Štěpán Reichardt in 1629. He sold the house to a gingerbread-maker Jan Schubert in 1641. His widow Veronika married Lorenc Aneiss in 1647 who gained the house by marriage. His son, a painter Petr Aneiss, later a councillor, took the house over in 1684 . The price of it was 350 three scores of Meissen groschen and he sold it for a higher price in 1728 to a collector of the liquor tax Filip Sassman for 600 guldens. In 1747 a tailor Šebestián Riedl paid for the house 700 guldens. It was kept by his family until the second half of the 19th century. In 1794 it was taken over by Josef Riedl from mother Lucie and in 1839 by grandson Vojtěch Riedl. The modern construction register shows no more remarkable information.
Present Use:
On the ground floor is a factory outlet of the Koh - i - noor Hardtmuth pencil manufacturers and on the upper floor are flats.