KKK

Kostelní No. 161
Description of the Building:
The main front with one window axis is situated in a buttress, which on the ground floor conically widens with a keel. In the side front are open Gothic window arches. The back elevation is of early-Rennaissance origin and creates a part of a high buttress, originally a bastion. The layout of the building is not remarkable and contains sections with flat ceilings. The cellars are not accessible.
Architectural and Historical Development:
The building is of Gothic origin, a former chapel, and was built on the site of the former town fortification, which has been preserved in the back elevation of the building. That happened during the reign of Peter I. von Rosenberg. In 1544 the building underwent a reconstruction. At that time the house gained its present outer look. In 1623 the construction of the chapel was improved, and according to the archival resources, the present roof truss was probably made. After discontinuation of the chapel in 1784 the homogenous space was divided with ceilings and the upper floor was created, where flats were built. At the end of the 19th century the northern front was renovated in its present appearance.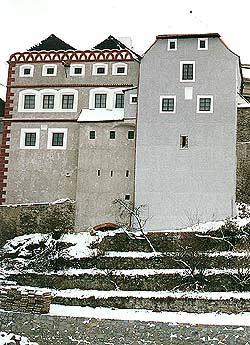 Significant Architectural Features:
A Gothic portal on the ground floor, open Gothic windows in the side front.
History of the House Residents:
From written resources we learn that Peter Wok von Rosenberg, who died in 1347, founded the Chapel of St. Václav. This chapel was soon, in the 14th century, consecrated in the Chapel of St. Jeroným and was assigned to German inhabitants of Český Krumlov - services were held by a German priest, who is first mentioned there in 1375. In 1617 the chapel should have been obtained by the Krumlov Utraquists, but the chancellor of the Jesuit College destroyed this intention although the chapel had been whitewashed and decorated. After the defeat at White Mountain the devastated chapel was given to a German fraternity of Assumption of Virgin Mary, which built it up again. The fraternity was abolished in 1784 by the Emperor Joseph II and the chapel lost its purpose. Two years later it was bought in auction for 200 guldens by a royal construction director Antonín Reising von Reisinger who rebuilt it into a habitable house. In 1819 it was inherited by his daughter Eufrosina, married Ebenhöch. In 1858 the administrator of church manors of Vyšší Brod František Špatný sold the house to Krumlov magistrate for the establishment of a working school for girls and boys. Later on a German music school was situated there and from 1947 a Czech music school.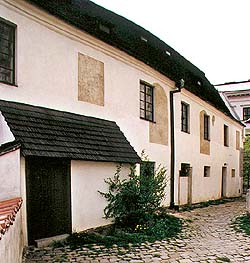 Present Use:
There is Elementary Art School in the building.