KKK

Horní No.158
Description of the Building:
This modern-day, two-story building is covered with a cross-pitched, gable roof. The main facade Neoclassical in design. Original Gothic cellars were found during modern-day renovations.
Architectural and Historical Development:
The construction of this building took place after the original gothic structure from the 14th century that was previously located on this plot was demolished in 1892. This original Gothic structure was a one-story construction with two wings. A second story was added in the second half of the 18th century. The modern- day building was equipped with an historic, Classical-style facade and was set up in 1957-1962 as a pedestrian passageway and a public lavatory. This was eliminated during reconstruction in 1996-1997.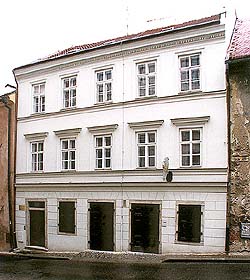 History of the House Residents:
In the last quarter of the 16th century the building belonged to the Rosenberg chief cook, Kaspar Lehman, who was succeeded as owner by Jan Schnabelreiter. From 1612, a cook named Simon Fetzer lived here. His daughter, Katerina Fetzer, took the building over in 1654. The building belonged to Michal Hübl in the 1660s and later to his wife Dorota. Cabinet maker Adam Hofman lived here from 1691-1723 and after him, the building was in the hands of the Široký family until the 1790s.
Present Use:
Fabric shop Hedva, Sheet Music and CD shop, Residential apartments, MuDr. František Kovařík - gynaecologist