KKK

Dlouhá No. 94
Description of the Building:
A one-storey house with a Classical front from the first third of the 19th century. The ground floor is deep and two-aisled, interrupted by a small courtyard. The back building has three floors.
Architectural and Historical Development:
The house is of medieval origin. There used to be an old town brewery here in the 16th century. Baroque and Classical reconstructions can be documented. In the 1970s a radical reconstruction was carried out, historical layers of plaster were removed and the facade was renovated.
Significant Architectural Features:
a reconstructed Empire facade, the most conspicuous in town
simple moulded stone jambs of the entrance, dated 1673
stone apron walls on the first floor
vaulting in the ground floor rear aisle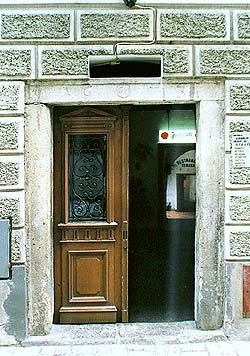 History of the House Residents:
At the end of the 16th century the town sold the building of the old brewery to Kryštof Lepší. His widow Voršila stayed there even in 1600. In that time the building served brewing purposes, because Lepší lived at No. 52 in Široká street. The former brewery was changed into an inhabitable house in the 17th century. In 1643 it was bought by Jindřich Schwingshärl, whose family was followed by a kettle-smith Jiří Hausperger who lived there to 1681. The house then belonged to a tailor Martin Lösch to 1754. In 1790 Josef Skerle stayed there. We do not have any more detailed information about the owners of the house in the 19th century.
Present Use:
Bed and Breakfast Kristínka, Restaurant